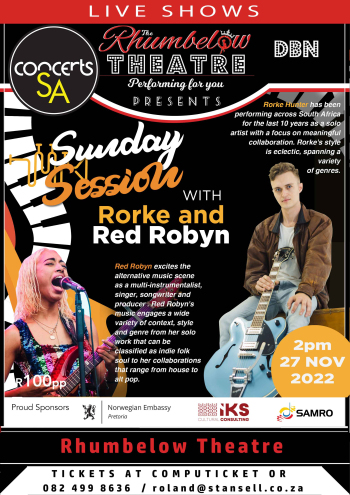 SUNDAY SESSION - Rorke and Red Robyn
27th Nov 2022 - 27th Nov 2022
Starring
Rorke hunter & Red Robyn
CompuTicket
Facebook Page
About The Show
RHUMBELOW THEATRE
42 Cunningham Rd off Bartle Road, Durban
Supported by Concerts SA through funding from the Norwegian Ministry of Foreign Affairs and SAMRO. Concerts SA is administered by IKS Cultural Consulting.
When you come to a Rhumbelow Event please bring some non-perishable food item for us to donate to MOTH COTTAGES to support those that are struggling.
SUNDAY SESSION - Rorke and Red Robyn
SUNDAY 27 November 2022 Show starts 14.00 – DBN
(Venue opens 90 minutes before show for snacks/drinks)
Red Robyn excites the alternative music scene as a multi-instrumentalist, singer, songwriter and producer - currently based in Durban , South Africa. Red Robyn's music engages a wide variety of context, style and genre from her solo work that can be classified as indie folk soul to her collaborations that range from house to alt pop. She is an electric performer with a background in theatre and dance.
Red Robyn has her BA Hons in Music from the University of Kwa-Zulu Natal where she explored the boundaries of Christian contemporary music and she is currently a Masters candidate. While Red Robyn is notably influenced by Indie , RnB and folk- soul, her sound is not one that can be defined as she refers to her work as; 'a mirror that reflects the times'.
Red Robyn has since spent time cultivating her own sound from behind her electric guitar and performed her first festival as a solo act at Oppikoppi 2018. She has since released powerful solo works like 'Dust and Iron' which was featured in the international Netflix series Blood and Water. She made her second festival appearance after winning Afropunk JHB Battle of the bands 2018 and performed on the main stage in Dec 2018 alongside international acts such as Thundercat, The Internet and Fying Lotus.
Rorke Hunter has been performing across South Africa for the last 10 years as a solo artist with a focus on meaningful collaboration. The Durban-bred musician cut his teeth on blues, but never misses a chance to entertain and perform his renditions of popular music as well as his catalog. Recently, Rorke Hunter has been independently crafting his new sound for his upcoming EP with an emphasis on songwriting and production. Rorke's style is eclectic, spanning a variety of genres, giving him the ability to connect with many different audiences.
R 100-00 a ticket
CASH VENUE FOR TICKETS
Food available at the Rhumbelow
Limited secure parking available
Booking is essential.
Full Bar Available
(no alcohol may be brought on to the premises)
Cell 0824998636
BOOKINGS ON EMAIL PLEASE : roland@stansell.co.za or COMPUTICKET http://events.durbantheatre.com/
For showbiz news, reviews and interviews don't miss Billy Suter's Website at https://sosuterbill.com/