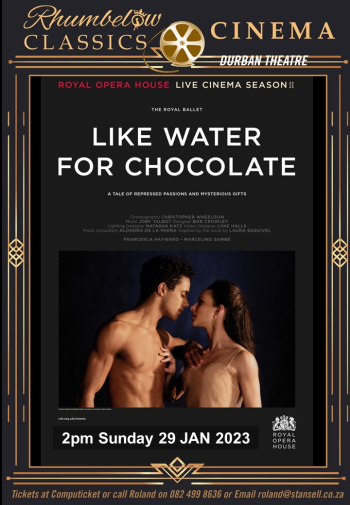 THE ROYAL BALLET - LIKE WATER FOR CHOCOLATE
29th Jan 2023 - 29th Jan 2023
Starring
The Royal Ballet
CompuTicket
Facebook Page
About The Show
RHUMBELOW CLASSICS CINEMA - ON THE BIG SCREEN
Cunningham Rd, Umbilo
THE ROYAL BALLET
LIKE WATER FOR CHOCOLATE
Recorded in June 2022
SUNDAY 29 JANUARY 2023 Screening starts 14.00 – DBN
(Venue opens 60 minutes before show for snacks/drinks)
Running time: 155 minutes (including one interval)
Welcome to the Royal Opera House Season 2022/2023, these presentations are LIVE STREAMED EVENTS, with intervals, starring some of the world's top performers. They are also recorded for venues such as The Rhumbelow Theatre and we are proud to bring you this series of Cinema experiences, as we endeavour to provide entertainment to appeal to everyone.
Choreography: Christopher Wheeldon
Music: Joby Talbot
Designer: Bob Crowley
Lighting designer: Natasha Katz
Video designer: Luke Halls
Music consultant: Alondra de la Parra
Inspired by the book by: Laura Esquivel
Associate set designer: Jaimie Todd
Associate costume designer: Lynette Mauro
Conducted by: Alondra de la Parra
Tita: Francesca Hayward
Pedro: Marcelino Sambé
Orchestra of the Royal Opera House
A modern Mexican classic of magic realism provides the basis for The Royal Ballet's new full-length work, reuniting Artistic Associate Christopher Wheeldon with the creative team who transformed Alice's Adventures in Wonderland and The Winter's Tale into dance, composer Joby Talbot and designer Bob Crowley.
The ballet is inspired by Laura Esquivel's novel – a captivating family saga where the central character's emotions spill out through cooking to influence everyone around her in startling and dramatic ways. In this co-production with American Ballet Theatre, Mexican conductor Alondra de la Parra also acts as musical consultant for Talbot's newly commissioned score, and Wheeldon has worked closely with Esquivel to reshape her richly layered story into an entertaining and engrossing new ballet.
R 125-00 a ticket
Food available at the venue.
Limited secure parking available
Booking is essential.
Bar Available (no alcohol may be brought on to the premises)
Cell 0824998636 BOOKINGS ON EMAIL PLEASE : roland@stansell.co.za or COMPUTICKET http://events.durbantheatre.com/
For showbiz news, reviews and interviews don't miss Billy Suter's Website at https://sosuterbill.com/