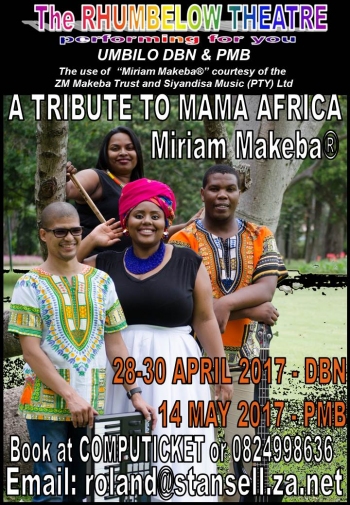 A Tribute to Mama Africa - Miriam Makeba®
14th May 2017 - 14th May 2017
Starring
Thulile Zama - vocals, David Smith on Piano, Sbusiso Mkhonza on Bass guitar and Rebekah Pillay on Drums
CompuTicket
Facebook Page
About The Show
RHUMBELOW THEATRE
DBN - 42 Cunningham Rd off Bartle Rd, Umbilo, Durban
PMB - Allan Wilson Shellhole, 5 Durban Rd Pietermaritzburg
Presents
A Tribute to Mama Africa
Miriam Makeba®
Thulile Zama - Vocals
David Smith on Piano
Sbusiso Mkhonza on Bass guitar
Rebekah Pillay on Drums
FRIDAY 28 APRIL 2017 Show starts 20.00 - DBN
SATURDAY 29 APRIL 2017 Show starts 20.00 - DBN
SUNDAY 30 APRIL 2017 Show starts 14.00 - DBN
SUNDAY 30 APRIL 2017 Show starts 18.30 - DBN
SUNDAY 14 MAY 2017 2.00PM - PMB
SUNDAY 14 MAY 2017 6.30PM - PMB
(Venues opens 90 minutes before show for picnic)
Thulile Zama brings a Tribute to Mama Africa
One well-loved African vocalist honouring another. Miriam Makeba®'s career influenced Thulile Zama to such extend that she found it fitting to do a tribute in the honour of Mama Africa.
She and her band have chosen songs from different era of her illustrious career including favourites like Pata Pata and Click song, but also the ballads like Promise and the heart wrenching offerings that she penned when she was in exile are included in their set.
R 150-00 a ticket
(R 130-00 Pensioners 1st Weekend ONLY)
Contact Roland for large group booking discounts – 20 or more
(Braais will be available should you wish to cook some meat – DBN ONLY)
Limited secure parking available Booking is essential.
Bar Available (no alcohol may be brought on to the premises)
Book at COMPUTICKET or email Roland for bookings and get that money rolling in.
Cell 0824998636
Email : roland@stansell.za.net
http://events.durbantheatre.com/

For showbiz news, reviews and interviews don't miss Billy Suter's Website at https://sosuterbill.com/
Thulile Zama Holds a BA (Music) from UKZN and is the lead vocalist of successful all female contemporary jazz band Heels Over Head (best contemporary jazz nominees SAMA – 2011). This versatile vocalist brings a wide repertoire that ranges from Jazz to Covers, to Afro effortlessly.
She is well known in the jazz circuit and a well-loved vocalist in Durban.
Her talents have taken her to all around the country, as well as to Swaziland and Germany.
Thulile has loads of experience for her age, plenty of passion for music and the performing arts.
Thulile has done performances for Bona Magazine, Weekend Live (SABC 2), SAB, Top Billing (SABC 3), HIVAN, Camel, Glenfiddich and countless events companies and institutions.
Thulile has MC'd for various functions in Durban and Johannesburg. Thulile Zama was a nominee (Arts, Culture and Heritage) in the 2013 Feather awards.
Thulile currently works at the University of KwaZulu Natal as the Jazz Centre and Concert Coordinator. The Centre for Jazz and Popular Music has been in existence since 1989 and has developed into a vibrant, international resource, performance and workshop venue.
David Smith on Piano, a pianist that has always had a passion for music. He started playing gospel at church. In the early 2000's, he studied music at UKZN where he initially met vocalist Thulile Zama. They played duo gigs in different restaurants and the corporate scene. He was a part of a very successful Jazz/Hip Hop band "Big Idea" that made waves throughout the country.
Bass guitarist Sbusiso Mkhonza was born in Middelburg. With his flare and natural love for theatre from a young age he was easily found in community activities, as a member of the Witbank choral Music, Theatrical art club which was called Amaqwathi, and then Izodela traditional dance group. In 2006 he received an award of best Assembly singer at Sofunda Secondary School. From 2005 to 2006 He was invited as a motivational guest speaker at G.M.F.M Radio station, sharing his passions in Mhluzi or Mpumalanga province as a whole, he spoke of his vision of enabling the youth to make an honest living in the arts without indulging in criminal activities. Sbu was also part of the SS Mendi production under Keeloz Entertainment art Academy, as a Dancer, Lead singer and Actor. The production was directed by Nhlanhla Ngema, brother to the great Mbongeni Ngema.
He furthered his education from 2010, doing his grade 2 and 3 in music theory and bass guitar at Izithethe arts institute getting distinctions in both subjects and did grade 6 in vocal studies. He is now registered at the University of Kwa-Zulu Natal and is currently doing his 2nd year in Bachelor of music.
Skilled drummer Rebekah Pillay was born to a musically inclined family. At the age of 14, she discovered she had a natural talent for playing drums. She began her music career by playing in church and continued in various church bands throughout high school. In 2003, she met other musicians from the Durban University of Technology Music Department and she made her first appearance as a professional drummer at a youth day performance with some friends. In 2009, she joined the SA Army as a military musician where she currently serves.
Rebekah is a sensitive drummer, aiming to create music that is both responsive and emotionally expressive. She believes that even though drums are not regarding as a melodic instrument, they can be played in a way that is equally musical as a piano or a guitar. Her music is strongly influenced by drummers like Oscar Seaton, Donovan Jacob, Steve Smith and Steve Gadd. The style of her playing adapts to the music, inspired by her love of funk and afro jazz music. She is a founding member of all-female jazz band Heels Over Head who was nominated for a SAMA (South African Music Award) in 2011 in the category Best Contemporary Jazz for its debut album, Could It Be. The band's music can also be heard on several radio stations.