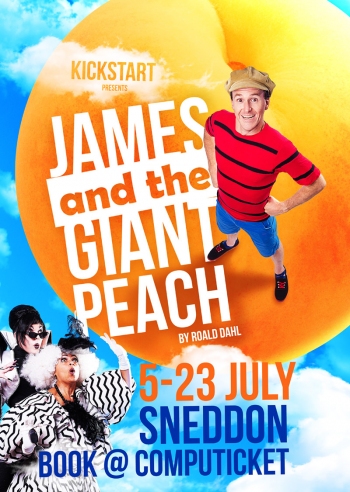 James and the Giant Peach
5th Jul 2017 - 23rd Jul 2017
Starring
Bryan Hiles, Clare Mortimer, Peter Court, Belinda Henwood, Nhlakanipho Manqele and Lyle Buxton.
CompuTicket
Facebook Page
About The Show
James and the Giant Peach
We have a giant-sized treat for you and your family this winter holidays! We will be presenting James and the Giant Peach by Roald Dahl at the Elizabeth Sneddon Theatre for the July School Holidays, from 5 to 23 July.
Multi award-winning designer and director, Greg King directs and designs this magical reimagining of the well-loved, deliciously quirky children's classic by Roald Dahl, about the young orphan, James, who has a remarkable adventure involving a giant peach and five eccentric giant insects.
James and the Giant Peach features a cast of Durban's finest and best-loved actors: Bryan Hiles, Clare Mortimer, Peter Court, Belinda Henwood, Nhlakanipho Manqele and Lyle Buxton.
At the centre of the story is a young English boy, James Henry Trotter, who is four years old and lives with his loving parents in a beautiful cottage by the sea in the south of England, until his parents are killed by an escaped rhinoceros during a shopping trip to London. James enters into a magical, giant peach while running away from his cruel aunts, Spiker and Sponge, and discovers a tunnel, which leads to secret room inside the peach's seed, inhabited by five magically altered human-sized, talking garden bugs: a grasshopper, a centipede, an earthworm, a spider, and a ladybird. Their glorious larger than life adventure takes him across the world!
Original music by local band, South Jersey Pom Poms adds to the madcap fun of this colourful entertainment. Lighting is by the highly regarded designer, Tina le Roux.
James and the Giant Peach is perfect July holiday entertainment for the entire family.
Performances are 2.30pm Tuesday – Friday, and 11am and 3pm on Saturday, and 2.30pm Sunday.
Booking is through Computicket: www.computicket.co.za, 0861 915 8000 or Shoprite Checkers Money Market Counters.
For block bookings of 50 or more people, contact Ailsa Windsor of Going Places: editor.goingplacessa@gmail.com or 083 250 2690.
For more information, visit www.kickstarttheatre.co.za.