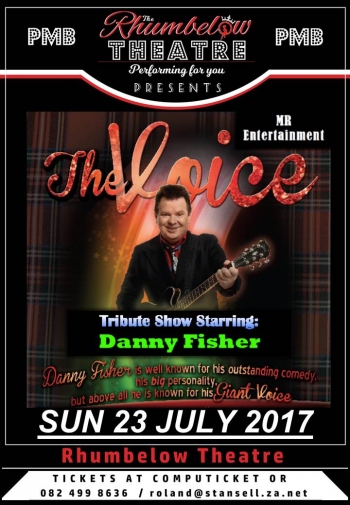 THE RETURN OF THE VOICE
23rd Jul 2017 - 23rd Jul 2017
Starring
Danny Fisher
About The Show
RHUMBELOW THEATRE
PMB - Allan Wilson Shellhole, 5 Durban Rd Pietermaritzburg
Presents
THE VOICE
Danny Fisher
SUNDAY 23 JULY 2017 Show starts 14.00
SUNDAY 23 JULY 2017 Show starts 18.30
(Venue opens 90 minutes before show for picnic dinner)
BACK BY POPULAR DEMAND – THE RETURN OF THE VOICE
Steyn Alive Productions proudly brings you Danny Fisher in "The Voice" - a truly remarkable insight into the vocal abilities of this one of a kind entertainer.
Danny, direct from his season on the MSC Sinfonia and his International tour of THE VOICE in Scotland and Ireland, is well known for his hysterical comedic antics, his big personality, but above all he is known for his giant voice. Come and be entertained as Danny takes you through his vast vocal landscape and into his unique world of impersonation. Danny will take you through his musical career and through his real life stories give you an extraordinary insight into his life as a "One of a kind" entertainer.
Danny Fisher was Front man/lead singer for the Blarney Bros for 8 years and was then seen on the popular Barnyard Theatre Circuit with the production "Your Mamma Don't Dance as well as throughout South Africa in various show productions, corporate events and even television. His unique blend of comedy and impersonation leaves audiences spellbound by his amazing talent. He is known for his HUGE voice and as one of SA's top Rock singers. Danny has the ability to do impressions of famous stars of stage and screen. In one evening you will see and hear him impersonate the likes of Ozzy Osbourne, Mick Jagger, Rod Stewart, Roy Orbison, Tom Jones, Meatloaf, Willie Nelson, Julio Eglesias, Bob Dylan, Benny Hill and even the great Nelson Mandela himself. Danny is known worldwide for being one of the best Elvis Presley impersonators too. On top of his huge vocal abilities he will have audiences rolling in their seats with his stand up comedy antics. Danny is truly an all round entertainer extraordinaire.
In this intimate showcase you will be wowed beyond belief as ONE man brings you MANY voices.
Durban's Top Talent at the Rhumbelow Theatre.
R 150-00 a ticket
(R 130-00 Pensioners)
Contact Roland for large group booking discounts – 20 or more
Bring food picnic baskets.
Limited secure parking available Booking is essential.
Bar Available (no alcohol may be brought on to the premises)
Book at COMPUTICKET or email Roland for bookings and get that money rolling in.
Cell 0824998636
Email : roland@stansell.za.net
http://events.durbantheatre.com/
For showbiz news, reviews and interviews don't miss Billy Suter's Website at https://sosuterbill.com/