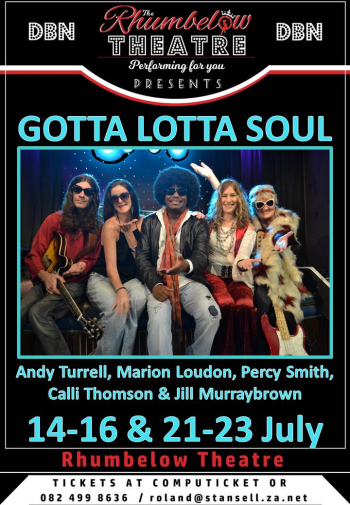 GOTTA LOTTA SOUL
14th Jul 2017 - 23rd Jul 2017
Starring
Percy Smith – Vocals, Marion Loudon - Vocals, Calli Thomson – Keyboards, Andy Turrell – Guitar & drums , Jill Murraybrown – Bass guitar
About The Show
RHUMBELOW THEATRE
Umbilo, Durban
Presents
GOTTA LOTTA SOUL
Percy Smith – Vocals
Marion Loudon - Vocals
Calli Thomson – Keyboards
Andy Turrell – Guitar & drums
Jill Murraybrown – Bass guitar
FRIDAY 14 JULY 2017 Show starts 20.00 - DBN
SATURDAY 15 JULY 2017 Show starts 20.00 - DBN
SUNDAY 16 JULY 2017 Show starts 14.00 - DBN
(Venue opens 90 minutes before show for picnic meal)
FRIDAY 21 JULY 2017 Show starts 20.00 - DBN
SATURDAY 22 JULY 2017 Show starts 20.00 - DBN
SUNDAY 23 JULY 2017 Show starts 14.00 - DBN
SUNDAY 23 JULY 2017 Show starts 18.30 - DBN
(Venue opens 90 minutes before show for picnic meal)
Gotta Lotta Soul is a celebration of American soul music. It boasts artists such as Sam Cooke, Otis Redding, Aretha Franklin, Diana Ross, Ruth Brown, Marvin Gaye, The Temptations and Wilson Pickett, to name some of the earlier golden oldies. There are also a couple of highlighted novelty artists like Ray Charles, Cab Calloway, the Blues Brothers and James Brown.
The cast consists of Durban's very own Soul Man, Percy Smith, on lead male vocals, firm favourite Marion Loudon on female vocals, the multi talented Andy Turrell on guitar and drums, rock solid Jill Murraybrown on bass and musical director Calli Thomson on keyboards.
Soul music, or soul, a popular music genre that originated in the United States in the late 1950s and early 1960s, combines elements of African-American gospel music, rhythm and blues and jazz and became popular for dancing and listening in the US, where record labels such as Motown, Atlantic and Stax were influential during the Civil Rights Movement. Soul also became popular around the world, directly influencing rock music.
R 150-00 a ticket
Loyalty Card Holders (Fri Night – R 100-00)
(R 130-00 Pensioners 1st Weekend ONLY)
Contact Roland for large group booking discounts – 20 or more
(Braais will be available should you wish to cook some meat – DBN ONLY)
Limited secure parking available Booking is essential.
Bar Available (no alcohol may be brought on to the premises)
Book at COMPUTICKET or email Roland for bookings and get that money rolling in. Cell 0824998636
Email : roland@stansell.za.net
http://events.durbantheatre.com/
For showbiz news, reviews and interviews don't miss Billy Suter's Website at https://sosuterbill.com/