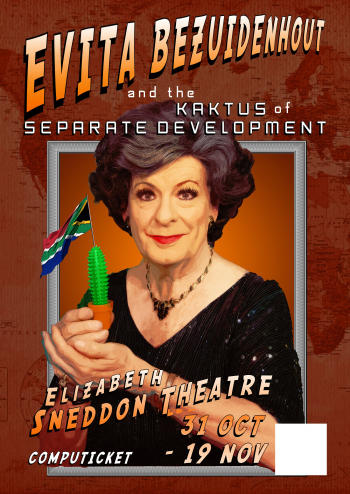 Evita Bezuidenhout & the Kaktus of Separate Development
31st Oct 2017 - 19th Nov 2017
Starring
Pieter-Dirk Uys
CompuTicket
About The Show
Pieter-Dirk Uys's famous alter-ego rewrites history
Evita Bezuidenhout & the Kaktus of Separate Development
Elizabeth Sneddon Theatre: 31 October – 19 November 2017
Get a revised history lesson from South Africa's most famous white woman, Evita Bezuidenhout, as she presents her side-splitting, satirical stand-up Evita Bezuidenhout & the Kaktus of Separate Development at the Elizabeth Sneddon theatre on UKZN campus for a three week run from Tuesday 31 October until Sunday 19 November.
Tannie Evita takes her audience on a unique great trek as she follows the journey of the Kaktus of Separate Development (Kaktaceae Apartica) from its arrival in 1652 to its reinvention in 1994 – right up to the headlines of today. Assisted by visual aids reflecting a familiar terrain of history, from the arrival of a small Dutch ship called the Drommedaris to the coronation of a former political prisoner called Madiba. She will have you in stiches while tackling one of the most controversial issues in our democracy: the real history of South Africa and the right to laugh at the lies.
For over 20 years, author, actor and activist Pieter-Dirk Uys has been enduring high-heels and extra long lashes to bring his most famous character to life. As a matron of political incorrectness, an honorary member of the ANC and a self-declared former ambassadress of a fictitious Bantustan called Bapetikosweti,
Bezuidenhout made her debut in 1982, and has since gained international acclaim for performances that poked fun, first, at the ridiculous laws under Apartheid, and then, at the leaders of the new, democratic South Africa. She has dined with Nelson Mandela, been kissed on the cheek by Archbishop Desmond Tutu and even received the Women's International Centre's 2000 Living Legacy Award in San Diego – an honour received by the likes of Hillary Clinton and Mother Theresa. She is, indeed, a national treasure, giving us reason to laugh at our typically sobering politics and history.
Evita was last at the Sneddon in 2013. Tickets available from Computicket www.computicket.co.za 0861 915 8000 / Shoprite Checkers Money Market Counters..
"Just when you thought Pieter-Dirk Uys couldn't get funnier or more topical, or even sharper, along comes this absolute treasure. The show is brilliant!"
Leon van Nierop, Artslink, 26 May 2017
"With the lates satirical pricks, to the latest political scandals blossoming around the world, Evita Bezuidenhout turns the mirror to South Africa with a subtle reflexivity that will light you up with laughter but break your heart at the same time!"
Ayanda Sky, TMTV SA, 26 May 2017
"Evita is a sharp and perceptive as ever"
Jennifer de Klerk, Artslink, 29 May 2017
Listings:
Evita Bezuidenhout & the Kaktus of Separate Development
Venue: Elizabeth Sneddon Theatre
Dates: 31 October – 19 November 2017
Times: Tue 31 Oct: 19h30 Low Price Preview
Wed, Thurs, Friday at 7.30pm
Sat and Sun at 3pm
Tickets: Computicket www.computicket.co.za 0861 915 8000 / Shoprite Checkers Money Market Counters..