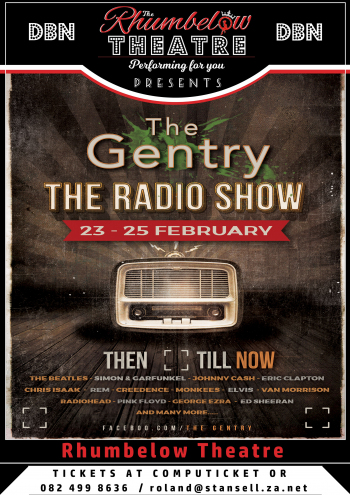 The Gentry - THE RADIO SHOW
23rd Feb 2018 - 25th Feb 2018
Starring
THE GENTRY - James Carlsen – Guitar & Vocals, Wade Wright – Piano & Vocals, Gavin Hughes – Drums & Percussion & John Skuy – Bass guitar & vocals
CompuTicket
Facebook Page
About The Show
RHUMBELOW THEATRE
UMBILO, DURBAN
Presents
THE GENTRY
THE RADIO SHOW
James Carlsen – Guitar & Vocals
Wade Wright – Piano & Vocals
Gavin Hughes – Drums & Percussion
John Skuy – Bass guitar & vocals
FRIDAY 23 FEB 2018 Show starts 20.00 - DBN
SATURDAY 24 FEB 2018 Show starts 20.00 - DBN
SUNDAY 25 FEB 2018 Show starts 14.00 - DBN
SUNDAY 25 FEB 2018 Show starts 18.30 - DBN
(Venues opens 90 minutes before show for picnic dinner)
That "special " sound…the bringer of news, good and bad,…hardly recognisable in its present form these days…we return you to the sounds and music coming from that long suffering ,incredible device…The Radio.
Join local band "The Gentry "and friends, as we do our very best to recreate just a small part of what the Wireless, the Transistor radio..THE RADIO .. brought to all of ours ears. Step into the studio with us…drop out, tune in to "The Radio Show, then till now…."
Band line up includes well-known musicians Wade Wight piano and vocals, Gavin Hughes drums and percussion, John Skuy bass guitar and vocals and …introducing for the first time at the Rumbelow. James Carlsen on guitars and vocals. We look forward to entertaining you! Hope to see(hear) you there….
Durban's Top Talent at the Rhumbelow Theatre
R 150-00 a ticket
(R 130-00 Pensioners)
NOTE – Pensioner Discounts apply 1st weekend ONLY
Loyalty Card Holders (R 120-00)
Contact Roland for large group booking discounts – 20 or more
(Braais will be available should you wish to cook some meat – DBN ONLY)
Limited secure parking available Booking is essential.
Bar Available (no alcohol may be brought on to the premises)
Book at COMPUTICKET
email Roland for bookings and get that money rolling in.
Cell 0824998636
Email : roland@stansell.za.net
http://events.durbantheatre.com/
For showbiz news, reviews and interviews don't miss Billy Suter's Website at https://sosuterbill.com/