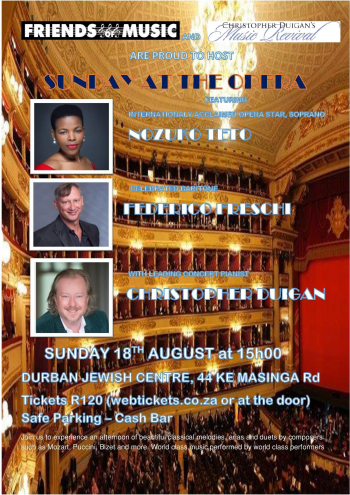 SUNDAY AT THE OPERA
18th Aug 2019 - 18th Aug 2019
Starring
FEATURING INTERNATIONALY ACCLAIMED SOPRANO NOZUKO TETO WITH LEADING CONCERT PIANIST CHRISTOPHER DUIGAN
About The Show
SUNDAY AT THE OPERA SET TO THRILL LOCAL AUDIENCES WITH STAR-STUDDED LINE-UP
Friends of Music in association with Christopher Duigan's Music Revival is proud to host 'Sunday at the Opera' featuring the internationally acclaimed soprano Nozuko Teto. Teto will be joined on stage by leading concert pianist and Steinway Artist Christopher Duigan and special guest Federico Freschi (baritone). This unique concert, featuring three internationally acclaimed local artists, takes place on Sunday 18 August at 15h00 at the Durban Jewish Centre, 44 KE Masinga (Old Fort) Rd, Durban. Join those on stage in experiencing an afternoon of beautiful classical melodies, arias and duets by composers such as Mozart, Puccini, Bizet and more.
Born in Bizana in the Eastern Cape soprano Nozuko Teto went on to grace opera stages around the world. Now she has returned home, not only to pursue her own career, but to form a company, Adesso Enterprises (Pty) Ltd with the aim to uplifting, inspiring and instilling confidence in talented youngsters. She will be working alongside some well-known local performers to scour impoverished areas in search of raw, untapped talent.
CHRISTOPHER DUIGAN is widely regarded one of South Africa's leading concert pianists. He has performed extensively with all leading South African orchestras. He has developed a popular following through his innovative presentation and programming of a broad and eclectic taste in music. As producer and impresario he is the director of the widely acclaimed MUSIC REVIVAL which he established in 1997.
After completing postgraduate studies in History of Art, baritone Federico Freschi studied towards a Performer's Diploma in Opera at the UCT College of Music. He subsequently sang with the CAPAB Singers' Studio, before returning to Johannesburg, where he performed many roles. Following a period as an associate professor in History of Art at the University of the Witwatersrand in 2013 Federico was appointed a full professor in, and Executive Dean of the Faculty of Art, Design and Architecture at the University of Johannesburg.
For more information contact Keith 071 505 1021