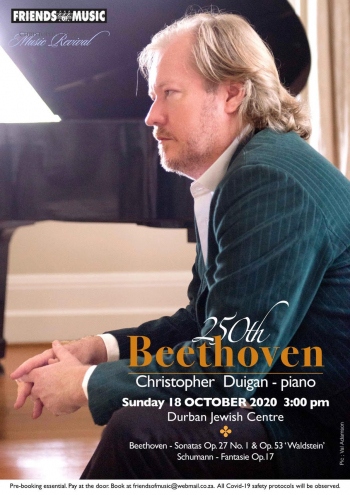 250th BEETHOVEN
18th Oct 2020 - 18th Oct 2020
Starring
Christopher Duigan
Facebook Page
About The Show
FRIENDS OF MUSIC
PRESENT
A LIVE PIANO RECITAL FEATURING
Christopher Duigan
Performing music by Ludwig van Beethoven
Celebrating the 250th year since his birth
SUNDAY 18TH OCTOBER 2020 @ 3PM
Durban Jewish Centre 44 KE Masinga (Old Fort) Road
South African concert pianist, CHRISTOPHER DUIGAN has been recognised as a 'South African piano icon' (Classic Feel June 2009). He has performed extensively with all leading South African orchestras in a repertoire of more than 25 works for piano and orchestra. In recital he has developed a popular following through his innovative presentation and programming of a broad and eclectic taste in music.
In recent months Christopher has established a massive online presence with twice-weekly livestream sessions during COVID 19. Since March 2020 he has reached unprecedented audience exposure internationally with recitals and informative performance sessions detailing his interest in the vast piano repertoire and his enthusiasm for the instrument. These can be followed at his website www.musicrevival.co.za As soloist Christopher has appeared in major performances with orchestra including Rachmaninoff Concerto No. 2 (Cape Philharmonic Orchestra- Cape Town City Hall), Liszt Piano Concerto No. 1 and Totentanz (Johannesburg Philharmonic Orchestra - Linder Auditorium) and Gershwin's Rhapsody in Blue and (KZN Philharmonic Orchestra - Durban City Hall).
Major recital engagements include those at the Brooklyn Theatre in Pretoria, Casa Labia in Cape Town, Steinway Hall in London, in Mexico City and at the National Arts Festival (Grahamstown) and Hilton Arts Festival.
Christopher Duigan is a Steinway Artist.
Programme: Beethoven Sonatas OP. 27 No.1 & Op. 53 "Waldstein"
Schumann Fantasie Op. 17
Ticket Price R80pp.
Special price to celebrate the return to live music by Friends of Music and Music Revival
Pre-booking essential. Pay at the door. Book at friendsofmusic@webmail.co.za. All Covid-19 safety protocols will be observed.