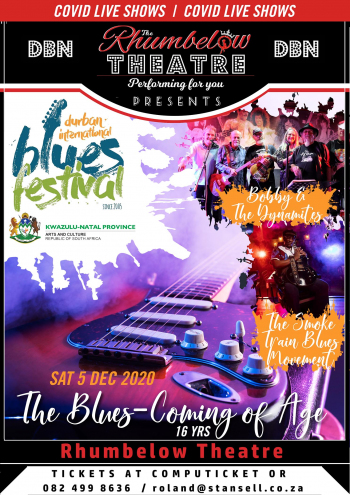 DIBF - THE BLUES, COMING OF AGE – 16 YEARS
5th Dec 2020 - 5th Dec 2020
Starring
BOBBY & THE DYNAMITES THE SMOKE TRAIN BLUES MOVEMENT
CompuTicket
Facebook Page
About The Show
RHUMBELOW THEATRE
42 Cunningham Rd off Bartle Road, Durban
ALL TICKETS MUST BE PRE-BOOKED
NO WALKINS ALLOWED
DURBAN INTERNATIONAL BLUES FESTIVAL
Sponsored by
The Department of Arts & Culture
Kwa-Zulu Natal Province
Kingston Live has been part of the Durban International Blues Festival team from the birth of the event and are proudly providers of the backline for this year's festival .
The Blues Festival will be featuring 2 bands each night interspersed with AV sent from our International Artists who could not join us this year.
SATURDAY 05 DEC 2020 Show starts 19.15 – DBN
THE BLUES, COMING OF AGE – 16 YEARS
BOBBY & THE DYNAMITES
THE SMOKE TRAIN BLUES MOVEMENT
(Venue opens 90 minutes before show for snacks/drinks)
THE SHOW MUST GO ON!
2020 has certainly been a challenge for most of us, no less the entertainment and eventing industry. Covid 19 shook us from every angle and the struggle to "keep things afloat" is no stranger!
The Durban International Blues Festival 2020 team certainly have had to deal with these industry issues- but the warriors that they are, along with their ever loyal (main) sponsors, The Department of Arts and Culture believe: NEVER SAY DIE !
New strategies, new plans and a new way of doing things have been the inspiration behind this year's event which will take place 4 – 6 December and there is no better place to hold the event- with all Covid rules in governance- than at Roland Stansell' s Rhumbelow Theatre in Umbilo (Durban KZN).
Program Director, Will Wallace has been able to stretch the budget allocated from the Department of Arts and Culture and the line-up includes local bands Rorke Kemp, Sea Level (featuring Lance Goldberg), Bobby and the Dynamites, and Smoke Train. The Reals are the backing band for The Blues Summit on the Sunday and who could go wrong with them in the mix.
The performances are live – but with a twist! Local artists will perform live but since our international Blues friends couldn't come to Durban in person due to Covid restrictions, they have willingly agreed to participate in a video production to be screened at the show. The line- up is formidable with some of our past performers supporting us wholeheartedly: Liz Mandeville (USA), Toronzo Cannon (USA), Fiona Boyes (Aus), Pat Savage (Canada), Charlie Love (USA), Donna Herula (USA), Yamil Jacobo (Argentina).
There will be a Merch Table so bring a few extra scheckel's for this too. Concorde Printers have a few Blues tee shirts and artists will have CD's at the table.
Keep watching these pages and also visit FRIENDS OF THE DURBAN INTERNATIONAL BLUES FESTIVAL and DURBAN INTERNATIONAL BLUES FESTIVAL on Facebook for early information or go to www.durbanbluesfestival.co.za.
Whilst we are not changing our 2020 pricing, we would ask that if you are able to please assist us and the performers by donating a higher ticket price.
R 160-00 a ticket
(R 140-00 Pensioners)
(R 140-00 Students with a valid student card)
Loyalty Card Holders (R 130-00) ALL SHOWS
Bring food picnic baskets or buy from Kevin.
ALL SEATING WILL BE AT SEPARATE TABLES AND WE WILL OBVIOUSLY BE SEATING CO-HABITING COUPLES AND/OR FAMILY MEMBERS.
Limited secure parking available
Booking is essential.
Full Bar Available
(no alcohol may be brought on to the premises)
Cell 0824998636
BOOKINGS ON EMAIL roland@stansell.co.za or COMPUTICKET
http://events.durbantheatre.com/
For showbiz news, reviews and interviews don't miss Billy Suter's Website at https://sosuterbill.com/
PLEASE NOTE THE FOLLOWING
COVID-19 PROTOCOLS FOR PATRONS
HEALTH AND SAFETY PROTOCOLS FOR PATRONS

Patrons need to wear a face and nose covering at all times in the venue except when eating or drinking.
All patrons will have their temperatures taken on arrival at the venue.
All patrons will be required to complete documents relating to Travel and Covid-19 contacts.
All patrons will be required to complete an indemnity form.
All patrons will be required to complete an attendance register with all appropriate information including confirmation of co-habiting when couples attend.
All patrons will be hand sanitized on arrival and at interval.
All patrons will be requested to bring hand sanitizer with them to the venue.
Any patron who does not meet the required Health & Safety protocols and temperature check will be refused entry.
Patrons above the age of 60 or a person with co-morbidities will be discouraged from attending performances. (GOVT GUIDELINES – please be guided by your own health status)
SHORT SYNOPSIS ABOUT EACH FEATURED BAND FOR 2020
BOBBY AND THE DYNAMITES (Sat 05 Dec 2020)
Durban's "faithful to the blues' band – are a tight unit made up of well-seasoned musicians and have been knocking the socks off it for the last 10 years. Favourites at Zacks with their monthly "Blues Train"(Covid slowed it down a bit), Bobby and the Dynamites are hot favourites on the blues scene and will be performing at this year's Durban International Blues Festival which takes place 4- 6 December at the Rhumbelow Theatre in Durban.
With this extraordinary combination of some of Durban's finest, the band comprises:
Ronnie McNamara – the quiet but powerful and steady presence of this man is "the king of blues bassman" they say!
Will Wallace –the "driver "at the (Blues Train) and the band's lead guitarist, Will is also the Program Director for the Durban International Blues Festival.
Grant Halliday – a "Timekeeper "of note as he beats out the rhythm on drums
Pete Wilson – This man can blow a harp which would make angels weep and with his gravelly voice, fits the blues vibe perfectly!
Tiffany Shephard – this vocalist has "fire in her feet". A powerful voice that will get you rocking with the best of them. If you want more dulcet tones- Tiffany can step up to the plate here too. Tiffany is signed with Unique Records.
Keith Fordyce – Keith is the newest member of the band but is by no means a novice!
A guitar whizzes and keyboard player to beat, Keith is well amongst the best of the best on the music circuit.
THE SMOKE TRAIN BLUES MOVEMENT(Sat 05 Dec 2020)
The Smoke Train Blues Movement is an African Blues brand comprising of blues musicians from all across the continent of Africa (from up and coming to the finest ).The vision to develop, nurture and keep the blues alive, is led by lead guitarist, composer and singer Nico Smoke Lawrence. Starting out as a solo artist in 2016 after losing his business and all his belongings in a fire in Port Shepstone KZN he and his family relocated to Johannesburg (Edenvale).
I wanted to play and write authentic blues music that reflects and captures the times we live in here in South Africa, With that being a huge success and The Smoke Train band gaining love and support in the blues community locally and abroad there was another challenge that Smoke faced, how do we grow the blues in Africa? How do we develop and nurture the blues talent as we have many musicians wanting to join the band, but we could not accommodate them all? This is how The Smoke Train Blues Movement came about, we represent Africa. We are taking our first African team of talented musicians from Democratic Republic of Congo and Madagascar, local artists from Durban, myself, and our drummer from Johannesburg.
Some remarkable progress has been made in late 2019-2020, we have been inundated with invitations from Argentina, Spain, Mexico, Columbia, Ghana, and Swaziland etc. We are looking forward to taking the Blues into Africa 2021.
Nico SMOKE Lawrence - Lead singer, lead guitarist, composer and Driver of The Smoke Train Blues Movement.
Rob Domijan – Drummer on the Smoke Train Blues Movement, he is an accomplished artist and has been around the Blues circuit for many years.
Gracious Nkulu – Bass guitarist from DRC, been groomed by the Train since he was 19 years old. A bass guitarist of note, super talented.
Iffa Raz, 28 - pianist from Madagascar, talented artist who loves the Blues, he is also a Commercial Pilot.
Ashvin Laljit - 55, he has a BA. Degree through UNISA majors in Music and Sociology, is a talented and experienced artist. Ashvin hails from Durban, KZN. Ashvin is passionate about teaching youngsters music.
Featuring Black Jack, my friend, mentor and blues brother. A knowledgeable man, with lots of wisdom to impart. He is one of the main pinnacles of the movement, who operates solely behind the scenes.