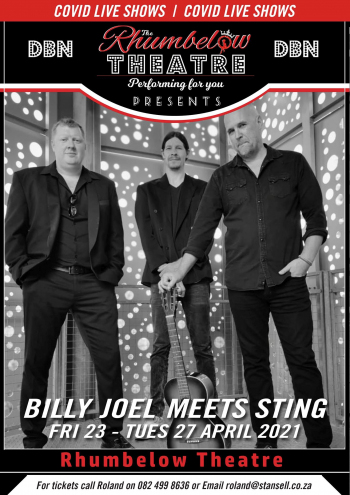 BILLY JOEL MEETS STING
23rd Apr 2021 - 27th Apr 2021
Starring
Andy Turrell , John Ellis and Evan Cullum
CompuTicket
Facebook Page
About The Show
RHUMBELOW THEATRE
42 Cunningham Rd off Bartle Road, Durban
BILLY JOEL MEETS STING
Andy Turrell , John Ellis and Evan Cullum
FRIDAY 23 APRIL 2021 Show starts 19.30 – DBN
SATURDAY 24 APRIL 2021 Show starts 19.30 – DBN
SUNDAY 25 APRIL 2021 Show starts 14.00 – DBN
MONDAY 26 APRIL 2021 Show starts 19.30 – DBN
TUESDAY 27 APRIL 2021 Show starts 14.00 – DBN
(Venue opens 90 minutes before show for snacks/drinks)
Durban musicians team up to pay tribute to the legends that are, Billy Joel and Sting.
For over 40 years, Billy Joel and Sting have had a mutual respect and admiration for each other's musicality, writing and performing ability. By combining the two artists, the Durban trio are hopeful that their audience will reminisce on memories of the astounding careers of the New York Piano man and Police lead singer.
In 2018 Billy Joel was quoted by the New York Times as saying "Sting and I always joke around: 'Just for the hell of it, let's join up and put a group together that explodes after, like, a year.'"
Expect to enjoy some of the greatest hits such as Every Breath You Take, Uptown Girl, Every Little Thing She Does is Magic, You May Be Right and many more!
The show features ubiquitous Andy Turrell (Drums/Guitar), the incomparable John Ellis (Vocals/Guitar) and talented Evan Cullum (Piano/Vocals/Guitar).
John Ellis is a singer-songwriter from Durban, South Africa. The principal member, guitar-player, vocalist and songwriter for the internationally renowned and award-winning band Tree63, he relocated back to his hometown from America after many years of international success to pursue a solo career.
The multi-talented Andy Turrell, another Durban born musician, has entertained audiences throughout the country for many years. Performing throughout most of his musical career with Guitarists Dan Patlansky and Rowan Stuart, Andy, a brilliant guitarist in his own right, is also a phenomenal drummer and bass guitarist.
Durban born singer-pianist Evan Cullum has been performing in KZN for the past 5 years. Starring in productions such as "Rock n Roll Nerds" and "Elton and Friends", Evan has also been part of the Rockwood Theatre Sibaya Hit shows "Megastars of Pop", " Superbands" and "Hollywood Hits".
Durban's Top Talent at the Rhumbelow Theatre.
Whilst we are not changing our 2020 pricing, we would ask that if you are able to please assist us and the performers by donating a higher ticket price.
R 160-00 a ticket
NO OTHER DISCOUNTS FOR THIS SHOW
Bring food picnic baskets or buy from Kevin.
ALL SEATING WILL BE AT SEPARATE TABLES AND WE WILL OBVIOUSLY BE SEATING CO-HABITING COUPLES AND/OR FAMILY MEMBERS TOGETHER.
Limited secure parking available
Booking is essential.
WITH THE CURRENT COVID LEVELS WE WILL BE LIMITING CAPACITY TO 50 % MAX
FULL BAR AVAILABLE
(no alcohol may be brought on to the premises)
Cell 0824998636
BOOKINGS ON EMAIL PLEASE : roland@stansell.co.za
or COMPUTICKET
http://events.durbantheatre.com/
For showbiz news, reviews and interviews don't miss Billy Suter's Website at https://sosuterbill.com/
PLEASE NOTE THE FOLLOWING COVID-19 PROTOCOLS FOR PATRONS
HEALTH AND SAFETY PROTOCOLS FOR PATRONS

Patrons need to wear a face and nose covering at all times in the venue except when eating or drinking.
All patrons will have their temperatures taken on arrival at the venue.
All patrons will be required to complete documents relating to Travel and Covid-19 contacts.
All patrons will be required to complete an indemnity form.
All patrons will be required to complete an attendance register with all appropriate information including confirmation of co-habiting when couples attend.
All patrons will be hand sanitized on arrival and at interval.
All patrons will be requested to bring hand sanitizer with them to the venue.
Any patron who does not meet the required Health & Safety protocols and temperature check will be refused entry.
Patrons above the age of 60 or a person with co-morbidities will be discouraged from attending performances. (GOVT GUIDELINES – please be guided by your own health status)