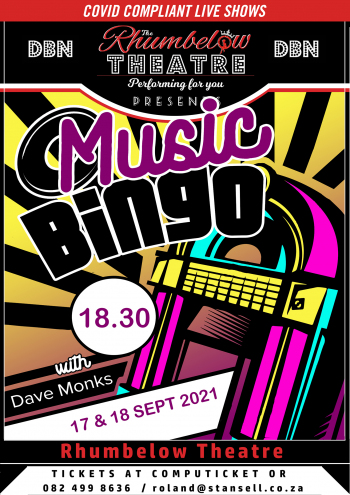 Music Bingo with Dave Monks
17th Sep 2021 - 18th Sep 2021
Starring
Dave Monks
CompuTicket
Facebook Page
About The Show
RHUMBELOW THEATRE
42 Cunningham Rd off Bartle Road, Durban
Music Bingo with Dave Monks
FRIDAY 17 SEP 2021 Show starts 18.30 – DBN
SATURDAY 18 SEP 2021 Show starts 18.30 – DBN
(Venue opens 90 minutes before show for snacks/drinks)
Music Bingo works very much the same as a normal bingo evening but instead of numbers been called it is done with music.... All music played is original songs.... Songs are spliced into 30 second slots
There are two Bingo's in a night.
Each Bingo lasting about 45 minutes.
Game 1 - 60s 70s & 80's
Game 2 "All the Hits"
All the songs are played in a random order, and if the person has the song on their sheet they will mark it off.
Bingo sheets which are all different will be supplied by Rhumbelow Theatre.
Great prizes for BINGO.
Dave will explain to everyone before the event how the Bingo works and will assist them with the names of the songs.
A fun evening....
Dave will also warm up the crowd with a few songs before the Bingo.
Top Talent at the Rhumbelow Theatre.
Whilst we are not changing our 2020 pricing for shows, we would ask that if you are able to please assist us and the performers by donating a higher ticket price.
Min - R 160-00 a ticket
NO OTHER DISCOUNTS FOR THIS SHOW
Bring food picnic baskets or buy at the venue.
ALL SEATING WILL BE AT SEPARATE TABLES AND WE WILL OBVIOUSLY BE SEATING CO-HABITING COUPLES AND/OR FAMILY MEMBERS TOGETHER.
Limited secure parking available
Booking is essential.
WITH THE CURRENT COVID LEVELS WE WILL BE LIMITING CAPACITY TO 50 MAX
FULL BAR AVAILABLE
(no alcohol may be brought on to the premises)
Cell 0824998636
BOOKINGS ON EMAIL PLEASE : roland@stansell.co.za or COMPUTICKET http://events.durbantheatre.com/
For showbiz news, reviews and interviews don't miss Billy Suter's Website at https://sosuterbill.com/
PLEASE NOTE THE FOLLOWING COVID-19 PROTOCOLS FOR PATRONS
HEALTH AND SAFETY PROTOCOLS FOR PATRONS

Patrons need to wear a face and nose covering at all times in the venue except when eating or drinking.
All patrons will have their temperatures taken on arrival at the venue.
All patrons will be required to complete documents relating to Travel and Covid-19 contacts.
All patrons will be required to complete an indemnity form.
All patrons will be required to complete an attendance register with all appropriate information including confirmation of co-habiting when couples attend.
All patrons will be hand sanitized on arrival and at interval.
All patrons will be requested to bring hand sanitizer with them to the venue.
Any patron who does not meet the required Health & Safety protocols and temperature check will be refused entry.
Patrons above the age of 60 or a person with co-morbidities will be discouraged from attending performances. (GOVT GUIDELINES – please be guided by your own health status)