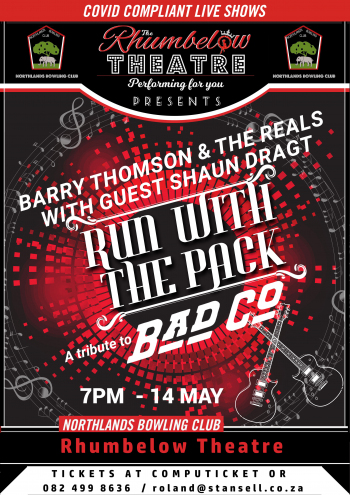 RUN WITH THE PACK - The Music of Bad Company
14th May 2022 - 14th May 2022
Starring
Barry Thomson & The Reals (Dawn Selby, Mali Sewell & Andy Turrell) Guest guitarist -Shaun Dragt
CompuTicket
Facebook Page
About The Show
NORTHLANDS BOWLING CLUB
50 Margaret Mayton Ave, Durban North
In Association with The Rhumbelow Theatre
RUN WITH THE PACK
The Music of Bad Company
Barry Thomson & The Reals
Guest guitarist -Shaun Dragt
SATURDAY 14 MAY 2022 Show starts 19.00 - NORTHLANDS
(Venue opens 90 minutes before show for snacks/drinks)
SUNDAY 22 MAY 2022 Show starts 14.00 - PMB
RUN WITH THE PACK
'Barry Thomson and The Reals' pay tribute to the classic rock songs of Bad Company, including 'Bad Company', 'Can't Get Enough', 'Feel Like Making Love', 'Good Lovin' Gone Bad', 'Movin' On', 'Shooting Star', 'Run With The Pack' and 'Young Blood'.
Bad Company enjoyed great success throughout the 70s with their first three albums reaching the top five in the album charts in both the UK and US. Bad Company consisted of four seasoned British musicians including two former members of the band Free, singer Paul Rodgers and drummer Simon Kirke, former Mott the Hoople guitarist Mick Ralphs and ex-King Crimson bassist Boz Burrell.
The Reals, with Durban favourites Barry Thomson on guitar and vocals, Dawn Selby as Musical Director on keyboards and vocals, Mali Sewell on drums and vocals and Andy Turrell on bass guitar present an evening of good rocking classics. Included in the line-up for this show is guest guitarist Shaun Dragt.
R 180-00 a ticket
Northlands Bowling Club Members R 150-00
NO OTHER DISCOUNTS FOR THIS SHOW
Bring food picnic baskets.
ALL SEATING WILL BE AT SEPARATE TABLES AND WE WILL OBVIOUSLY BE SEATING CO-HABITING COUPLES AND/OR FAMILY MEMBERS TOGETHER.
Limited secure parking available
Booking is essential.
WITH THE CURRENT COVID LEVELS WE WILL BE LIMITING CAPACITY TO 50 % MAX
FULL BAR AVAILABLE
(no alcohol may be brought on to the premises)
Cell 0824998636
BOOKINGS ON EMAIL PLEASE : roland@stansell.co.za or COMPUTICKET http://events.durbantheatre.com/
For showbiz news, reviews and interviews don't miss Billy Suter's Website at https://sosuterbill.com/
HEALTH AND SAFETY PROTOCOLS FOR PATRONS

Patrons need to wear a face and nose covering at all times in the venue except when eating or drinking.
All patrons will have their temperatures taken on arrival at the venue.
Any patron who does not meet the required Health & Safety protocols and temperature check will be refused entry.