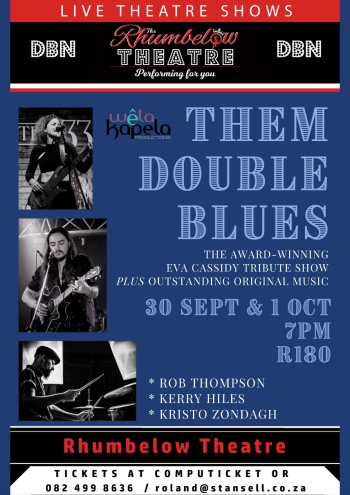 THEM DOUBLE BLUES
30th Sep 2022 - 1st Oct 2022
Starring
Kerry Hiles, Rob Thompson & Kristo Zondagh
CompuTicket
Facebook Page
About The Show
RHUMBELOW THEATRE
42 CUNNINGHAM RD, OFF BARTLE RD, UMBILO, DBN
Presents
THEM DOUBLE BLUES
Kerry Hiles, Rob Thompson & Kristo Zondagh
TWO SHOWS ONLY
FRIDAY 30 SEP 2022 Show starts 19.00 – DBN
SATURDAY 01 OCT 2022 Show starts 19.00 – DBN
(Venue opens 90 minutes before show for drinks)
Hot off the Hilton Arts Festival programme, and fresh from a fairly cross-country caper with the show, Kerry Hiles brings the Wela Kapela Productions' Ovation Award-winning tribute show, "The Story Of Eva Cassidy" to the Rhumbelow Theatre on 30 Sept and 1 Oct.
But wait...there's more: A DOUBLE BILL!
For your ticket price, Them Double Blues gives you not only a gem of a tribute show, but also a set by one of South Africa's finest blues artists, Rob Thompson, bringing you firm favourites and some self-penned jewels to enjoy.
Rob Thompson (guitar and vocals) and Kerry Hiles (bass and vocals) are joined by stellar drummer, Kristo Zondagh (drums and vocals).
These three Eastern Cape stars-in-their-own-right form a formidable trio that will treat you to two hours of top-class music on your night out.
R 180-00 a ticket
Bring food picnic baskets or buy at the venue.
Limited secure parking available
Booking is essential.
Bar Available
(no alcohol may be brought on to the premises)
Cell 0824998636
BOOKINGS ON EMAIL PLEASE : roland@stansell.co.za or COMPUTICKET http://events.durbantheatre.com/
For showbiz news, reviews and interviews don't miss Billy Suter's Website at https://sosuterbill.com/