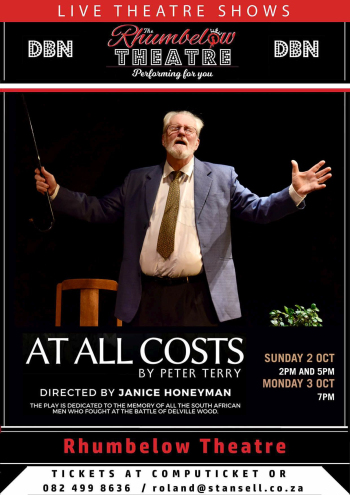 AT ALL COSTS
1st Oct 2022 - 2nd Oct 2022
Starring
Peter Terry & Directed by Janice Honeyman
CompuTicket
Facebook Page
About The Show
RHUMBELOW THEATRE
42 CUNNINGHAM RD, OFF BARTLE RD, UMBILO, DBN
Presents
AT ALL COSTS by Peter Terry
Directed by Janice Honeyman
SUNDAY 02 OCTOBER 2022 Show starts 14.00 – DBN
SUNDAY 02 OCTOBER 2022 Show starts 17.00 – DBN
MONDAY 03 OCTOBER 2022 Show starts 19.00 – DBN
Running Time – approx. 45 min
(Venue opens 90 minutes before show for drinks)
In this powerful piece of solo theatre, PETER TERRY performs in his own play, directed by the internationally acclaimed theatre director, JANICE HONEYMAN.
Direct from Theatre on The Square, Sandton, where it received rave reviews, and The Hilton Arts Festival, the Rhumbelow Theatre is proud to present this compelling production, which commemorates the legendary Battle of Delville Wood in July 1916 and the supreme sacrifice and heroism of the South African Brigade.
David Wells, a retired mechanical engineer, who fought and was wounded at the Battle of Delville Wood as a 19-year old youngster in 1916, reluctantly returns to the Wood in 1970, and finds himself reliving the Battle, in AT ALL COSTS.
The play is a deeply moving and poetic elegy to the unquiet ghosts of Delville Wood, and to the brave men whose lives were changed forever by this apocalyptic battle.
AT ALL COSTS remains relevant and topical in 2022.
"This is a play in which one man stands on stage, flanked by nothing more than a chair and a simple map of a location where thousands of men died to protect a conceptual, strategic idea of victory – AT ALL COSTS. Nothing more than those simple props and Terry's excellent, passionate acting is needed." – Bruce Dennill
"Terry opens a huge trajectory of time and space, of bottled emotions and hidden catastrophe […] a work that reflects with carefully selected words on the folly of a civilisation which wastes the lives of its youth, but it is a work that remains utterly and completely human." – Robyn Sassen
R 160-00 a ticket
Monday 3 Oct - MOTH Members R 120-00
Bring food picnic baskets or buy at the venue.
Limited secure parking available
Booking is essential.
Bar Available
(no alcohol may be brought on to the premises)
Cell 0824998636
BOOKINGS ON EMAIL PLEASE : roland@stansell.co.za or COMPUTICKET http://events.durbantheatre.com/
For showbiz news, reviews and interviews don't miss Billy Suter's Website at https://sosuterbill.com/