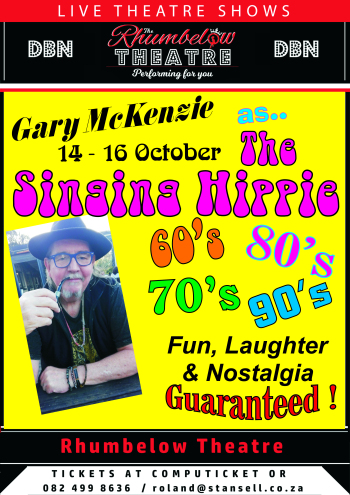 THE SINGING HIPPIE
14th Oct 2022 - 16th Oct 2022
Starring
Gary McKenzie
CompuTicket
Facebook Page
About The Show
RHUMBELOW THEATRE
42 CUNNINGHAM RD, OFF BARTLE RD, UMBILO, DBN
Presents
THE SINGING HIPPIE
Gary McKenzie
FRIDAY 14 OCTOBER 2022 Show starts 19.30 – DBN
SATURDAY 15 OCTOBER 2022 Show starts 19.30 – DBN
SUNDAY 16 OCTOBER 2022 Show starts 14.00 – DBN
(Venue opens 90 minutes before show for drinks)
Gary McKenzie. Actor. Singer. Director. Writer. Award winning theatre producer. Owner of one of the most successful supper theatres in the country (The Heritage Theatre). Founder and ex-member of The Gee Jays musical comedy trio for 35 years. Now a hippie.
After all that achievement and bloody hard work, Gary has now decided to follow his passion. Being a hippie, singing 60's, 70's and 80's music and loving the sheer enjoyment of sharing a laugh, a little nostalgia, and just making people happy. Cos we all know that the world needs to be a little happier right now.
Come join us for an informal afternoon/evening of remembering the times when music was music. Sing along. Get up and dance. Just let your soul free. We've all had a pretty torrid time of late. It's our turn now to get happy.. (and we're not talking weed here..)
The show is appearing at The Rhumbelow Theatre (Durban) from 14 – 16 October, and then plans to tour the country thereafter. So come along and see the birth pangs of an old age born again.
Love to see you there. Peace and Love.
R 160-00 a ticket
Bring food picnic baskets or buy at the venue.
Limited secure parking available
Booking is essential.
Bar Available
(no alcohol may be brought on to the premises)
Cell 0824998636
BOOKINGS ON EMAIL PLEASE : roland@stansell.co.za or COMPUTICKET http://events.durbantheatre.com/
For showbiz news, reviews and interviews don't miss Billy Suter's Website at https://sosuterbill.com/