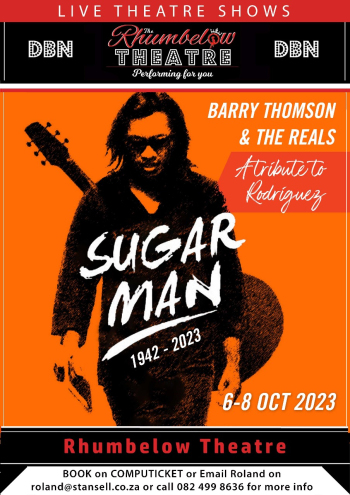 SUGARMAN (1942 – 2023) - TRIBUTE TO RODRIGUEZ
6th Oct 2023 - 8th Oct 2023
Starring
Barry Thomson & The Reals Dawn Selby, Andy Turrell, Mali Sewell & Barry Thomson
CompuTicket
About The Show
RHUMBELOW THEATRE
42 Cunningham Rd off Bartle Road, Durban
Presents
SUGAR MAN
(1942 – 2023)
A Tribute to Rodriguez
Barry Thomson & The Reals
Dawn Selby, Andy Turrell, Mali Sewell & Barry Thomson
FRIDAY 06 OCT 2023 Show starts 19.30
SATURDAY 07 OCT 2023 Show starts 18.30
Earlier start so our Rugby mad nation can be home in time for
big World Cup Rugby game 21.00 Ireland vs Scotland
SUNDAY 08 OCT 2023 Show starts 14.00
We open 90 minutes before show
Who would know that an unknown album from an unknown artist in 1970 (Rodriguez) would become a huge phenomenon in South Africa?
As big as say, Elvis Presley. Rodriguez himself was never aware of his huge success, as well as most other Americans. His music was lost in the US but, by a strange coincidence becomes a cult hit in South Africa and becomes a symbol of rebellion for the underground white, anti-apartheid sub-culture.
Celebrate the music and life with all his well remembered songs such as "I Wonder", "Establishment Blues" and "Sugar Man", amongst others.
This musical tribute to Rodriguez's music is performed by Barry Thomson and 'The Reals'
R 200-00 a ticket
Bring food picnic baskets or buy at the venue.
Limited secure parking available
Booking is essential.
Bar Available (no alcohol may be brought on to the premises)
Cell 0824998636
BOOKINGS ON EMAIL PLEASE : roland@stansell.co.za or COMPUTICKET http://events.durbantheatre.com/
For showbiz news, reviews and interviews don't miss Billy Suter's Website at https://sosuterbill.com/