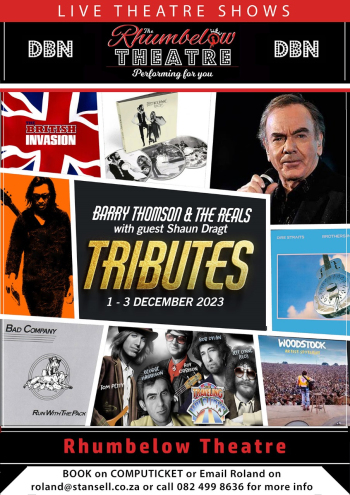 TRIBUTES - Barry Thomson & The Reals
1st Dec 2023 - 3rd Dec 2023
Starring
Barry Thomson & The Reals - Dawn Selby, Andy Turrell, Mali Sewell & Barry Thomson - Guest guitarist – Shaun Dragt
About The Show
RHUMBELOW THEATRE
42 Cunningham Rd off Bartle Road, Durban
Presents
TRIBUTES
Barry Thomson & The Reals
Dawn Selby, Andy Turrell, Mali Sewell & Barry Thomson
Guest guitarist – Shaun Dragt
FRIDAY 01 DEC 2023 Show starts 19.30
SATURDAY 02 DEC 2023 Show starts 19.30
SUNDAY 03 DEC 2023 Show starts 14.00
We open 90 minutes before show
'TRIBUTES'
Since 2005, 'Barry Thomson and The Reals' have created successful tribute shows which they have performed at various theatres in and around Durban. 'Tributes' is an amalgamation of the top songs sourced from their most popular shows in their extensive repertoire and includes audio visual presentations.
Enjoy a variety of music from The Reals tribute shows including The Eagles (Heartache Tonight), British Invasion (Comfortably Numb) This Is Us (Gary Moore's Still Got The Blues), Rodriguez (Sugar Man), Bad Company (Can't Get Enough), Dire Straits (Sultans Of Swing), Fleetwood Mac (Don't Stop), Traveling Wilburys (End Of The Line), Rock It Like A Lady (Alone), Woodstock (Santana and Jimi Hendrix) and Neil Diamond (Sweet Caroline), and then some!
This show features guitarist, singer and front-man Barry Thomson, musical director Dawn Selby on keyboards and vocals, Mali Sewell on drums and vocals, bass man Andy Turrell and guest Shaun Dragt on guitar and vocals.
R 200-00 a ticket
Bring food picnic baskets or buy at the venue.
Limited secure parking available
Booking is essential.
Bar Available (no alcohol may be brought on to the premises)
Cell 0824998636
BOOKINGS ON EMAIL PLEASE : roland@stansell.co.za or COMPUTICKET http://events.durbantheatre.com/
For showbiz news, reviews and interviews don't miss Billy Suter's Website at https://sosuterbill.com/