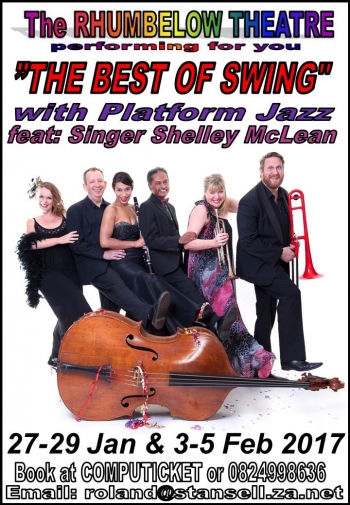 THE BEST OF SWING with Platform Jazz
27th Jan 2017 - 5th Feb 2017
Starring
Platform Jazz - Andreas Kappen, Brice Baker, Melvin Peters, Cathy Peacock, Kirsten Sayers, Jeff Judge, Duncan Wooldridge & Shelley McLean.
CompuTicket
Facebook Page
About The Show
RHUMBELOW THEATRE
Cunningham Ave off Bartle Rd
Presents
THE BEST OF SWING
with Platform Jazz
FRIDAY 27 JAN 2017 Show starts 20.00
SATURDAY 28 JAN 2017 Show starts 20.00
SUNDAY 29JAN 2017 Show starts 14.00
FRIDAY 03 FEB 2017 Show starts 20.00
SATURDAY 04 FEB 2017 Show starts 20.00
SUNDAY 05 FEB 2017 Show starts 14.00
SUNDAY 05 FEB 2017 Show starts 18.30
(Venue opens 90 minutes before show for picnic dinner)
What is Swing? Not only is it a music genre made popular in the 1920's through to the 1940's but it depicts a certain musical groove and feel and also a sophisticated and classy fashion style. Platform Jazz is set to bring you that groove and their show at the Rhumbelow this year will feature the best of their Swing numbers from their past 4 shows.
"The Best Of Swing" will include Swing favourites from early 20's, 30 s and 40 s through to pop numbers given a swing flair.
The band will perform crowd pleasers such as Mack the knife, Hello Dolly, In the Mood, When the saints go marching in, All about that Bass, My Favourite things, Big Spender to name a few and they are all guaranteed to be crowd pleasers! The line up includes Andreas Kappen on double bass, Bruce Baker on drums, The inimitable Melvin Peters on the keys, Cathy Peacock on trumpet, Kirsten Sayers on clarinet, Jeff Judge on the sax and vocals, Duncan Wooldridge on slide trombone and Shelley McLean adds her gorgeous style as lead vocalist.
Ladies don your pearls and fascinators, gents your scarves and spats and relive the era of glamour and big band magic with Platform Jazz and "The Best of Swing".
Don't miss these excellent musicians in action!
Their music is finger-clicking good!
R 150-00 a ticket
(R 130-00 Pensioners 1st Weekend ONLY)
Contact Roland for large group booking discounts – 20 or more (1st weekend ONLY)
Bring food picnic baskets.
(Braais will be available should you wish to cook some meat)
Limited secure parking available Booking is essential.
Bar Available (no alcohol may be brought on to the premises)
Book at COMPUTICKET or email Roland for bookings and get that money rolling in.
Cell 0824998636
Email : roland@stansell.za.net
events.durbantheatre.com