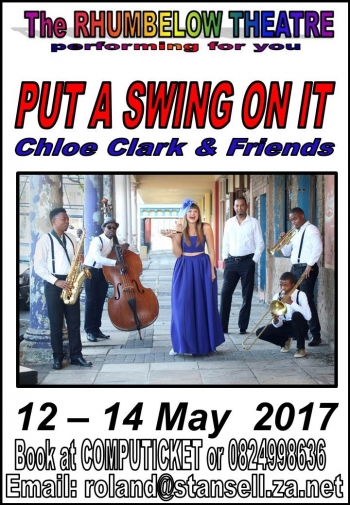 PUT A SWING ON IT
12th May 2017 - 14th May 2017
Starring
Joining forces are Durban's favourite and finest Jazz Cats; Vocals - Chloe Clark, Burton Naidoo - piano, Riley Giandhari - drums and Llewyn Chetty - bass. Horn section - Kgethi Nkotsi - trombone, Phuti Mofokeng - trumpet and Phumlani Mtiti - sax.
CompuTicket
Facebook Page
About The Show
RHUMBELOW THEATRE
Cunningham Ave off Bartle Rd
Presents
PUT A SWING ON IT
Chloe Clark & Friends
FRIDAY 12 MAY 2017 Show starts 20.00
SATURDAY 13 MAY 2017 Show starts 20.00
SUNDAY 14 MAY 2017 Show starts 14.00
SUNDAY 14 MAY 2017 Show starts 18.30
(Venue opens 90 minutes before show for picnic dinner)
Joining forces are Durban's favourite and finest Jazz Cats; the gorgeous vocal talents of songbird Chloe Clark, alongside the legendary Burton Naidoo on piano, dynamic drummer Riley Giandhari and the incredible Llewyn Chetty on the bass. There is also a delicious horn section with Kgethi Nkotsi on trombone, Phuti Mofokeng on trumpet and Phumlani Mtiti on saxophone.
Giving these songs their own special swing treatment, watch out for Megan Trainors world-wide hit 'All about the Bass' and made famous by Chloe Clark on this seasons The Voice South Africa, Beyoncé's 'Single ladies'. Chloe Clark and her 'Put a swing on it' band have done several tours throughout last year and have been working on some very exciting new arrangements which include The Carpenters, Michael Jackson and Britany Spears. They will have to swinging and clicking to their exceptional arrangements
Chloe will also perform 'Hey Darling' a self-penned song from her newly released solo album. She was asked to perform this song on Espressso on SABC3 and the music video was play listed on Mnet at the end of 2016.
You simply can't miss this exciting programme of music that these super talented and edgy Durban musicians have put together, let them show you how they 'Put a swing on it' in a show packed full of heartfelt performances. So dust off those dancing shoes, round up a group of your friends and book to see them.
You can have a squiz at Chloe's website for any further goodies.. www.chloeclark.co.za
Durban's finest Jazz Cats!
R 150-00 a ticket
(R 130-00 Pensioners 1st Weekend ONLY)
Contact Roland for large group booking discounts – 20 or more (1st weekend ONLY)
Bring food picnic baskets.
(Braais will be available should you wish to cook some meat)
Limited secure parking available Booking is essential.
Bar Available (no alcohol may be brought on to the premises)
Book at COMPUTICKET or email Roland for bookings and get that money rolling in.
Cell 0824998636
Email : roland@stansell.za.net
http://events.durbantheatre.com/
For showbiz news, reviews and interviews don't miss Billy Suter's Website at https://sosuterbill.com/