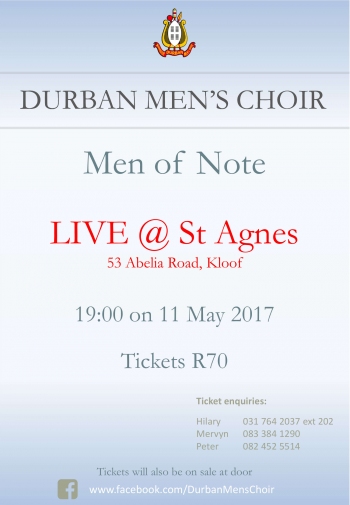 Durban's Men of Note LIVE at St Agnes
11th May 2017 - 11th May 2017
Starring
The Durban Men's Choir
About The Show
Durban's Men of Note LIVE at St Agnes
The Durban Men's Choir are presenting a concert in the "Stone Church" at St Agnes at 53 Abelia Road, Kloof. The St Agnes venue has become very popular among music lovers of all ages because of the great events that have been taking place there. And now your very own Durban Men's Choir will be there to entertain you
As always, the programme will be varied but the repertoire is always fresh consisting of new popular songs and some old favourites. CDs will be on sale, including the two new CDs which the choir has recorded recently.
The date to diarise is 11 May 2017 and the concert starts at 19h00
Tickets are R70 a head and can be booked with Hilary at 031 764 2037 ext 202. Tickets can also be purchased from Mervyn (083 384 1290) or Peter Spence (082 452 5514)
General enquiries can be addressed to Mervyn (083 384 1290).
Or simply speak to any member of the Durban Men's Choir?
See you there !!!