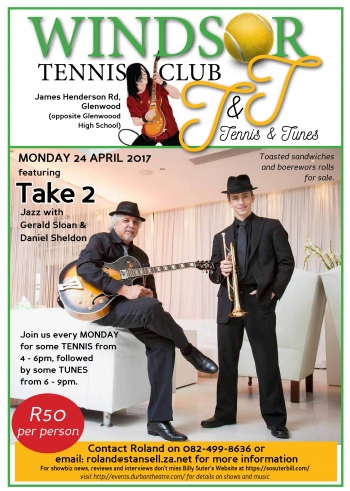 WINDSOR T & T - TAKE2 ( Daniel Sheldon & Gerald Sloan)
24th Apr 2017 - 24th Apr 2017
Starring
Daniel Sheldon & Gerald Sloan
Facebook Page
About The Show
If you are after a sundowner and some good music, varied sounds to wash away the Monday blues each week, consider popping in at Durban's Windsor Tennis Club (opposite Glenwood Boys's High) every Monday. If you wish to play some tennis from 4pm to 6pm, the grab a boerewors roll or toasted sandwich and a drink, and from 6pm to 9pm , listen to some great music by different acts.
EVERY MONDAY - Tennis from 4pm and Music from 6pm
R 50-00 ADMISSION
Take2 is one of Durban's Busiest and fullest sounding Jazz duos. Featuring the Giant of the Jazz Guitar in KZN Mr Gerald Sloan on Guitar and long time Partner in musical and nonsensical matters Daniel Sheldon on Trumpet and percussion. The duo has been playing gigs since 2009 featuring at many delightful wine tastings, corporate cocktails and even as a regular feature on the MATCH Hospitality suites during the 2010 Soccer world cup. Join us for some easy listening standards and a glass of your favourite tipple.