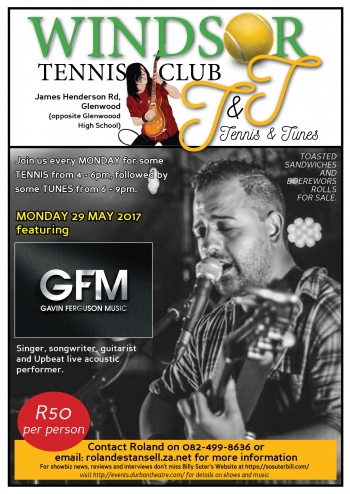 Windsor T & T - GFM (Gavin Ferguson)
29th May 2017 - 29th May 2017
Starring
Gavin Ferguson
Facebook Page
About The Show
If you are after a sundowner and some good music, varied sounds to wash away the Monday blues each week, consider popping in at Durban's Windsor Tennis Club (opposite Glenwood Boys's High) every Monday. If you wish to play some tennis from 3pm to 6pm, the grab a boerewors roll or toasted sandwich and a drink, and from 6pm to 9pm , listen to some great music by different acts. (Note - tennis will start earlier due to the winter months)
EVERY MONDAY
R 50-00 ADMISSION
SOMETHING ABOUT GAVIN
Currently my second single "Never Know" is on on EAST COAST RADIO and
three play-listings on DURBAN YOUTH RADIO and soon to release on 5FM
https://soundcloud.com/gavin-william-ferguson/gavin-ferguson-never-know
I am a singer, songwriter, guitarist and Upbeat live acoustic performer with a
loop pedal and effects as well as a producer with a home studio. I also play
cover songs for Corporate, weddings and Private Parties. On a side note I'm
also an actor
My Biggest corporate gig so far been Dimension Data Pro Am Golf
Tournament in George, Hosting South Africa's top Celebrities from all
spectrum of Sport and business http://www.dimensiondataproam.com/
I have opened up and shared the stage with artists like Khan from The Parlatones,
Short Straw, LocknVille, Jeremy Loops, Mathew Mole, John Ellis
from Tree 63, Majozi, December streets, Crash Car Burn and such as well
play at festivals like Splashy Fen, Smoking Dragon, Lube and Tube,
Biosphere, White Mountain, Peacanwood Octoberfest and the likes.
I have made a name for myself by being the resident musician the Oyster
Box, Zimbali playing regularly at Elangeni, Maharani, Tall Ships and Blue
Waters Hotel.

My playlist quite diverse and appeals to a large audience, hence the set-list
below encompasses a large mix of genres and artists. Some of the names
include Frank Sinatra, Bobby Darrin, The Drifters, Elvis Presley all the way
through to Ed Sheeran, George Ezra, Bruno Mars, The Weekend and Calvin
Harris and Shaun Mendez with also a bit of Black Street and R-Kelly in
between.
Original Music Links
Hidding Love (Original)
https://www.youtube.com/watch?v=pswx2llAdlo
Various covers
https://youtu.be/NiIl8_BKz3w
Interview (splashy fen)
https://www.youtube.com/watch?v=wTtbmHFbz8E
YouTube ( Tallulah Wedding Treat )
https://www.youtube.com/watch?v=hd_2V-tGgtg
Other Links
Instagram: @gavinwferguson
facebook: Gavin Ferguson Music
Twitter: @gavinwferguson
email: gavinwferguson@gmail.com
Cellphone: 0604898732
Soundcloud: gavin william ferguson
Facebook page
https://www.facebook.com/pages/Gavin-Ferguson/104972579586833