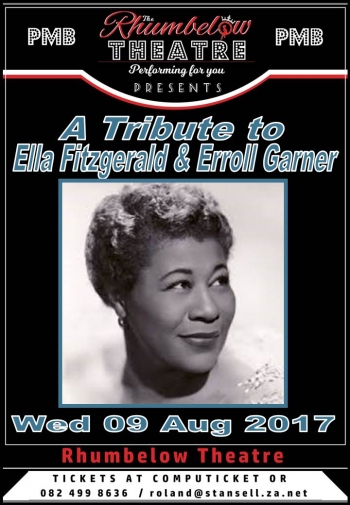 A TRIBUTE TO ELLA FITZGERALD & ERROLL GARNER
9th Aug 2017 - 9th Aug 2017
Starring
Kerry Cherry - Vocals, David Langley - Piano, Mark Momple - Bass & Riley Giandhari - Drums
CompuTicket
Facebook Page
YouTube
About The Show
RHUMBELOW THEATRE
PMB - Allan Wilson Shellhole
5 Durban Rd Pietermaritzburg
Presents
A TRIBUTE TO
ELLA FITZGERALD & ERROLL GARNER
Kerry Cherry - Vocals
David Langley - Piano
Mark Momple - Bass
Riley Giandhari - Drums
WEDNESDAY 09 AUG 2017 Show starts 14.00 - PMB
WEDNESDAY 09 AUG 2017 Show starts 18.30 - PMB
(Venues opens 90 minutes before show for picnic dinner)
A wonderful perfromance of the works or Ella Fitzgerald & Erroll Garner, perfromed by some of Durban's top musicians.
An exquisite fun filled performance with thrills throughout to entertain all ages. Vocal extraordinaire Kerry Cherry will be taking us on a journey that relives the first lady of song.
Along side her the band will accompany in the style of the great Erroll Garner. Tunes from "a tisket a tasket "to play "misty" for me. This show highlights the extraordinary talents these MUSICIANS displayed during their era and is relived now with the band Heather groove.
Ella and Erroll tribute show is guaranteed to lift the spirits and give all an experience old.
The band is a jazz quartet that displays virtuosity of every individual within the band.
To pay true tribute to the greats of old.
R 150-00 a ticket
(R 130-00 Pensioners)
Contact Roland for large group booking discounts – 20 or more
Bring food picnic baskets.
Limited secure parking available
Booking is essential.
Bar Available (no alcohol may be brought on to the premises)
Book at COMPUTICKET or email Roland for bookings and get that money rolling in.
Cell 0824998636
Email : roland@stansell.za.net
http://events.durbantheatre.com/
For showbiz news, reviews and interviews don't miss Billy Suter's Website at https://sosuterbill.com/