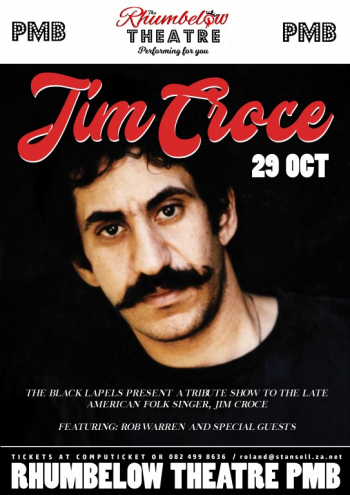 TRIBUTE TO JIM CROCE
29th Oct 2017 - 29th Oct 2017
Starring
A Black Lapels Production - JIM CROCE A Black Lapels Production Rob Warren on guitar and vocals & Special Guests Rob Warren on guitar and vocals & Special Guests
Facebook Page
About The Show
RHUMBELOW THEATRE
PMB - Allan Wilson Shellhole, 5 Durban Rd Pietermaritzburg
Presents
JIM CROCE
A Black Lapels Production
Rob Warren on guitar and vocals
& Special Guests
Sun 29 OCT 2017 2.00pm PMB
Sun 29 OCT 2017 6.30pm PMB
(Venues opens 90 minutes before show for picnic)
Jim Croce was an American folk and popular rock singer of the late 1960s and early 1970's. Between 1966 and 1973, Croce released five studio albums and singles, his songs "Bad, Bad Leroy Brown" and "Time in a Bottle" reached No.1 on the U.S. Billboard Hot 100 chart.
On Thursday, Septermber 20th 1973 Jim Croce and band mate Maury Muehleisen died tragically when their chartered light aircraft crashed during take off in Louisiana.
"Jim Croce has always been an enigmatic figure in my life, my father introduced me to his music at age 12, and I have played his songs ever since, from the earliest days of my musical journey. His music leaves me with a deep sense of nostalgia and comfort, I am looking so forward to sharing these stories with you."
The Jim Croce Tribute will be intimate performance Black Lapels front man Rob Warren doing what he does best on acoustic guitar and vocal accompanied by special guests in this unique show offering.
Featured Songs:
Time in a Bottle, Bad, Bad Leroy Brown, I got a Name, Lovers Cross, Rapid Roy, Roller Derby Queen, I'll have to say I love you in a song, Operator, Next Time This Time…and many more.
Durban's Top Talent at the Rhumbelow Theatre.
R 150-00 a ticket
(R 130-00 Pensioners)
Contact Roland for large group booking discounts – 20 or more
Bring food picnic baskets.
Limited secure parking available Booking is essential.
Bar Available (no alcohol may be brought on to the premises)
Book at COMPUTICKET or email Roland for bookings and get that money rolling in.
Cell 0824998636
Email : roland@stansell.za.net
http://events.durbantheatre.com/
For showbiz news, reviews and interviews don't miss Billy Suter's Website at https://sosuterbill.com/