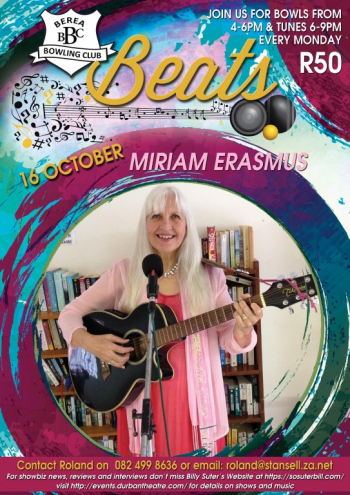 BBC BEATS - Miriam Erasmus
16th Oct 2017 - 16th Oct 2017
Starring
Miriam Erasmus
About The Show
BBC BEATS - R 50-00 (Berea Bowling Club Beats)
If you are after a sundowner and some good music, varied sounds to wash away the Monday blues each week, consider popping in at the Berea Bowling Club every Monday. If you wish to play some bowls from 4pm to 6pm (they have flood lights), the grab something to eat and a drink, and from 6pm to 9pm , listen to some great music by different acts. People can attend and play bowls from 4pm (they also have flood lights) There will be members in attendance to assist non bowlers. They also have bowls available.
They have a full bar and a kitchen with a catering lady.
Miriam Erasmus Song Book.
Miriam Erasmus ( "Mim" ) will once again astound us with her knowledge of the folk genre - songs and stories from a thousand years, or a few months ago, gathered from a lifetime of making us laugh, cry and sing along.
One of the true Legends of Song, and we are lucky to have her here on our doorstep.
We all love her beautiful voice and marvel at her finger picking guitar style.