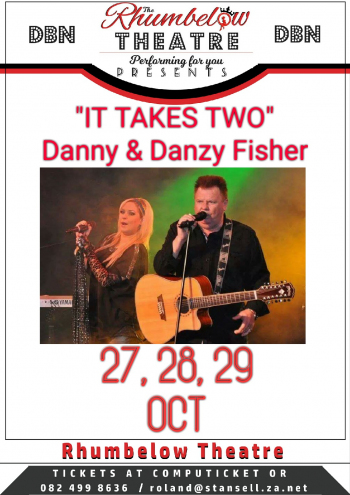 IT TAKES TWO
27th Oct 2017 - 29th Oct 2017
Starring
Danny Fisher and Danielle Fisher
CompuTicket
Facebook Page
About The Show
RHUMBELOW THEATRE
Umbilo, DBN
Presents
IT TAKES TWO
Danny Fisher and Danielle Fisher
FRIDAY 27 OCT 2017 Show starts 20.00 - DBN
SATURDAY 28 OCT 2017 Show starts 20.00 - DBN
SUNDAY 29 OCT 2017 Show starts 14.00 - DBN
SUNDAY 29 OCT 2017 Show starts 18.30 - DBN
(Venues opens 90 minutes before show for picnic)
Dynamic Daddy/Daughter Duets from Country, Rock to Pop and many more...
When the power of two musical forces collaborate the synergy and serenade of a duet is formed. Steyn Alive Productions brings you a magical evening with twice the fun in "It Takes Two.
The show is designed to bring you the very best duets of all time. Performed by the dynamic father and daughter team of entertainers, Danny Fisher and Danielle Fisher. Danny, last seen at The Rhumbelow in July with his show "The Voice" and Danielle having performed in July 2015 in the all girl tribute show, Diva Feva. Both are excited to be back to entertain Rhumbelow Theatre audiences and are teaming up to showcase a top class evening of entertainment.
The Fisher's blend their talents and bring to life Country legends like Johnny Cash & June Carter and Kenny Rogers & Dolly Parton . As well as Rock and Pop legends like Meatloaf & Celine Dion, Paul McCartney & Stevie Wonder, Elton John & Kiki Dee, Simon and Garfunkel, Joe Cocker & Jennifer Warnes. The highlight for the Fishers is undoubtedly to recreate legendary father/daughter duets from the likes of Frank & Nancy Sinatra, Nat King Cole & Natalie Cole and even Elvis Presley & Lisa-Marie Presley, with a few sneaky surprises along the way...
Enjoy hits like Islands in the stream, Ebony and Ivory, It's all coming back to me, Jackson, Don't go breaking my heart, Up where we belong, Unforgettable and so much more.
Join us for twice the vocal duality, twice the Fisher talent and twice the fun in "It Takes Two".
It's a "feel good" family show for the whole family, by a family...
"To sing a duet together means sharing with someone both the pleasure and the responsibility of making music for an audience which is there to feel enjoyment through music' – Andrea Bocelli
R 150-00 a ticket
(R 130-00 Pensioners 1st Weekend ONLY)
Contact Roland for large group booking discounts – 20 or more
(Braais will be available should you wish to cook some meat – DBN ONLY)
Limited secure parking available Booking is essential.
Bar Available (no alcohol may be brought on to the premises)
Book at COMPUTICKET or email Roland for bookings and get that money rolling in.
Cell 0824998636
Email : roland@stansell.za.net
events.durbantheatre.com
For showbiz news, reviews and interviews don't miss Billy Suter's Website at https://sosuterbill.com/