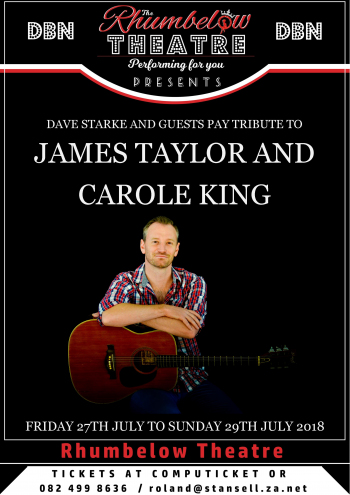 A Tribute to James Taylor and Carole King
27th Jul 2018 - 29th Jul 2018
Starring
Dave Starke, Too Bit Mac, Jaran Lienig, Lizzie Gaisford & Geor Daasvand
CompuTicket
About The Show
RHUMBELOW THEATRE
42 CUNNINGHAM RD, OFF BARTLE RD, UMBILO, DBN
Presents
A Tribute to James Taylor and Carole King
Dave Starke and Friends
FRIDAY 27 JULY 2018 8.00PM – DBN
SATURDAY 28 JULY 2018 8.00PM – DBN
SUNDAY 29 JULY 2018 2.00PM – DBN
(Venues opens 90 minutes before show for picnics)
A slightly theatrical, mostly musical tribute to two of the foremost singer/songwriters of the 1960s. Take the butter-like voice of James Taylor that made famous songs like Carolina on My Mind, You Can Close Your Eyes, Sweet Baby James and Fire and Rain and contrast it with the soulful, rich voice of Carole King in songs like So Far Away, Natural Woman, You've got a Friend and Will you Still Love Me Tomorrow. The result is mellow, emotional journey through the lives of these two friends and lovers, their music and their madness.
Brought to you by Dave Starke and a stellar cast of visiting musicians, the show promises to be a powerful examination of these two timeless singers.
About the performers:
Dave Starke is a Cape Town-born guitarist and singer. Former frontman for acoustic rock band, Soulfire, he is now a full-time solo performer and composer. Dave appeared on the first season of The Voice South Africa and in addition to performing at theatres and weddings, he composes music for film and television.
Too Bit Mac is South African born singer who was educated in the USA. On her return to South Africa, she performed in High School Music South Africa. She is currently the vocalist in KZN corporate show band Brandy Bossa Nova.
Jaran Lienig is based in Granvin, Norway and holds a master's degree in music. He helped to establish a music school in KZN in 2010 and has been a regular visitor to South Africa ever since.
Lizzie Gaisford is a guitarist and accordion player based in Cape Town where is the lead singer for The Fishwives.
Geir Daasvand from Oslo, Norway is an alto and tenor saxophonist and member of the legendary "Frank Znort Quartet".
R 150-00 a ticket
(R 130-00 Pensioners)
Loyalty Card Holders (R 120-00)
Contact Roland for large group booking discounts – 20 or more
(Braais will be available should you wish to cook some meat – DBN ONLY)
Limited secure parking available Booking is essential.
Bar Available (no alcohol may be brought on to the premises)
Book at COMPUTICKET or email Roland for bookings and get that money rolling in.
Cell 0824998636 Email : roland@stansell.za.net events.durbantheatre.com
For showbiz news, reviews and interviews don't miss Billy Suter's Website at https://sosuterbill.com/