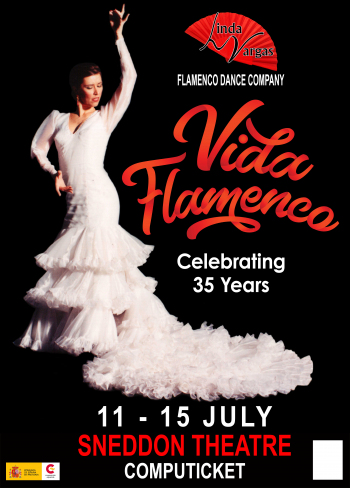 VIDA FLAMENCO
11th Jul 2018 - 15th Jul 2018
Starring
CompuTicket
Facebook Page
About The Show
VIDA FLAMENCO
Linda Vargas 35th Anniversary Gala Performance
11 – 15 July 2018
In celebration of an impressive 35 year legacy, the Linda Vargas Flamenco Dance Company promises to thrill audiences with a special gala season entitled Vida Flamenco (Life of Flamenco) at the Elizabeth Sneddon Theatre from 11 to 15 July 2018.
With their high level of performance innovation, creativity and professionalism the Company has built a loyal and extensive following of Spanish dance in South Africa – whilst developing a style and ethos that is unique to Durban, where all its performers have come from.
Vida Flamenco is a celebration of 35 years of creativity and brings together a wealth of dance, music and choreographic talent. Highlights from previous productions will be re-visited, and the Company are collaborating with the arts community in Durban and South Africa by including past musicians and singers who have performed with them. Former Linda Vargas Flamenco Dance Company members, who have subsequently established their own dance companies in Johannesburg and Cape Town, will also perform in the production - these include Flamenco del Sur and Teresa Morena Dance Company.
Ramon Fernandez (son of Linda Vargas and Demi Fernandez, and member of the Company) who is currently making a name for himself dancing in Spain, makes a welcome guest appearance with his powerfully inimitable style as part of the celebration.
As the production looks back at its legacy it also finds a way to highlight the future and where the company is going with the inclusion of performances by Linda Vargas's youth excellence project Siyanda Flamenco. This project comes out of groundbreaking teaching developments from several schools in KZN under the umbrella of STAMP Dance, which promotes inclusion and intercultural creativity in schools.
Another highlight is the reworking of the much-acclaimed 2004 production of Desert Flowers featuring special guest appearance by the Flatfoot Dance Company, which will bring together a range of contemporary dancers and musicians in a work that particularly locates Flamenco dancing and rhythm within the South African context.
This bumper season explores the diverse range of the Company's repertoire both musically and stylistically with compelling music by guitarist Demi Fernandez, Neil Gonsalves, Martin Sigamoney and Bryan Stone, who provide the musical soul that infuses the entire performance.
"I really cannot believe it has been 35 years since we first started performing in the University's Lorca Festival at the Sneddon," says Linda Vargas. "We have done so much, and worked with so many amazing artists over the years, we wanted to somehow showcase this diversity in this celebration. We are so deeply grateful to all the performers and crew who are involved, and also to the Embajada de España / Embassy of Spain for their support in staging this historic event. "
Vida Flamenco: The Linda Vargas 35th Anniversary Gala Season runs at the Elizabeth Sneddon Theatre on the UKZN's Howard College campus from 11 to 15 July 2018.
Performances are on Wednesday to Saturday at 7pm with matinees on Saturday and Sunday at 2:30pm. Early bird ticket prices are R150 before 9 July (R130 students / pensioners) or R180 if booked from July 10. Block booking discount are R130 each for 10 or more tickets. Seats in the last two rows for each performance are R130 (booked before 9 July) or R150 (if booked from July 10).
Bookings are through Computicket.
Additional information:
In the early years, the Linda Vargas Company included a variety of styles of Spanish Dance in their productions, including classical, neo classical, regional and flamenco. Subsequently the Company became more specialised in flamenco. They began their journey in great opera productions at The Playhouse Theatre in Durban and the State Theatre in Pretoria. Linda was invited to choreograph and perform in the international production of "Carmen", where she worked with the world renowned director of the London Opera, Sir Michael Rennison. Linda and her company produced their first major production at the Elizabeth Sneddon Theatre where they were invited to perform as part of the Federico Garcia Lorca Festival in 1986. Subsequently the company were invited to participate in the grand opening of the Playhouse Theatre Complex in the mid 80's, from where they produced numerous productions in association with the Playhouse Theatre over the next 35 years.
The multicultural fusion of music and dance which gave rise to flamenco stands testament to the power and beauty of cultural fusion in art and inspired their choreography and production of Desert Flowers at the Playhouse Drama Theatre in 2004. This production received critical acclaim for its pioneer work in fusion of dance styles. It comprised a cast of over 30 dancers from Indian, African, Classical Ballet and Flamenco genres. Demi Fernandez composed and arranged the original music score which was performed by Durban's leading musicians. The Linda Vargas Company has continued to include fusion choreography in its more recent productions while always remaining true to the original essence and purity of the Spanish classical and flamenco forms.
Linda and Company have made rich contributions to the dance culture in Durban and have toured South Africa extensively. They have participated in numerous collaborative productions with The Playhouse Dance Company, NAPAC, PACT, and CAPAB, Siwela Sonke Dance Theatre, Fantastic Flying Fish Dance Company, Mercedes Molina Spanish Dance Theatre and the annual Shall We Dance showcase. Linda has worked with renowned choreographers such as David Gouldie, Ashley Killar, Mark Hawkins, Hazel Acosta, Gerard Samuel, Jay Pather, Neville Letard, Rhoda Rivkind, and Mavis Becker. Linda and her company have been invited numerous times to perform for the Spanish Embassy in Zimbabwe, Mozambique, Pretoria, and Cape Town. They have participated in numerous outreach projects and educational workshops at schools and continue to promote dance and culture at every opportunity.
Demi Fernandez was born in Brazil of Spanish Parents and spent many years living and performing in Flamenco Tablaos in Spain. Demi has also appeared as leading flamenco guitarist with numerous South African and international Spanish Dance Companies. He is resident guitarist for the Linda Vargas Flamenco Dance Company and Alianza Flamenca. He has composed musical scores for several SABC TV productions and also appeared in numerous productions including "Guitars for Africa" in Durban and at the Grahamstown National Arts Festival. He currently lectures in the University of KwaZulu-Natal's Jazz programme.