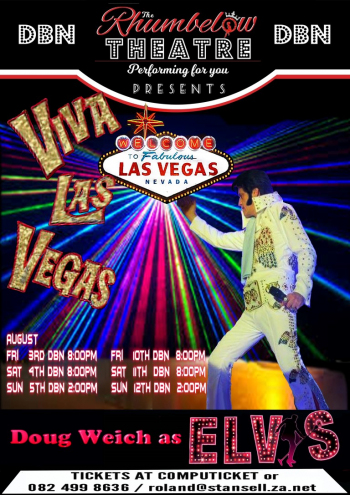 ELVIS in VIVA LAS VEGAS
3rd Aug 2018 - 12th Aug 2018
Starring
Doug Weich as Elvis. MSG Band - Wade Wight , Evan Cullum, Glen Turrell, Alec Mackay, David Knott, Kirsty Van Der Linda, Claire Rowlette & Sandi Da Cunha.
CompuTicket
Facebook Page
About The Show
RHUMBELOW THEATRE
Allan Wilson Shellhole, PMB & Umbilo DBN
Presents
ELVIS
in
VIVA LAS VEGAS
SUNDAY 22 JULY 2048 - 14.00 ONLY PMB
FRIDAY 03 AUG 2018 - 20.00 DBN
SATURDAY 04 AUG 2018 - 20.00 DBN
SUNDAY 05 AUG 2018 - 14.00 DBN
FRIDAY 10 AUG 2018 - 20.00 DBN
SATURDAY 11 AUG 2018 - 20.00 DBN
SUNDAY 12 AUG 2018 - 14.00 DBN
Venue opens 90 minutes before show for picnic dinner)
Back by popular demand, Elvis Presley tribute artist, Doug Weich, marks his seventh consecutive year at the Rhumbelow Theatre with his new show "Viva Las Vegas".
The show gives us a glimpse of what it was like to watch the King of Rock n' Roll in Las Vegas when he made his return to live performances with his iconic gem studded jumpsuits, starting from his debut in 1969 up until his last performance in 1977.
"Viva Las Vegas" is a show with all the glitz and glamour and is packed with timeless classic hits of yesteryear that will keep the audience thoroughly entertained for the full 90min performance.
A Rocktainment Production, Doug's is backed by his well accomplished, multi talented 8 piece band, "MSG".
Wade Wight / Keyboards/ Male Backing Vocals
Evan Cullum / Piano/ Male Backing Vocals
Glen Turrell/ Bass Guitar
Alec Mackay/ Drums
David Knott / Lead Guitar
Kirsty Van Der Linda / Saxaphone
Claire Rowlette / Female Vocals
Sandi Da Cunha / Female Vocals
Come and join us for another exhilarating show at the Rhumbelow Theatre as we pay tribute to one of the greatest entertainers of all time, and commemorate 41 years of the passing of Elvis Presley.
This show is for audiences of all ages and not to be missed, with all time favourites such as Hound Dog, Blue Suede Shoes, Jailhouse Rock, It's Now Or Never, Fever, Heartbreak Hotel, Johnny B. Goode and Suspicious Minds, just to name a few.
"The Truth Is Like The Sun. You Can Shut It Out For A Time, But It Ain't Going Away". : - Elvis Presley
R 150-00 a ticket
R 130-00 Pensioners - 1st WEEKEND ONLY
Loyalty cards R 120-00
Contact Roland for large group booking discounts – 20 or more
Bring food picnic baskets.
Limited secure parking available Booking is essential.
Bar Available (no alcohol may be brought on to the premises)
Book at COMPUTICKET or email Roland for bookings and get that money rolling in.
Cell 0824998636
Email : roland@stansell.za.net
http://events.durbantheatre.com/
For showbiz news, reviews and interviews don't miss Billy Suter's Website at https://sosuterbill.com/