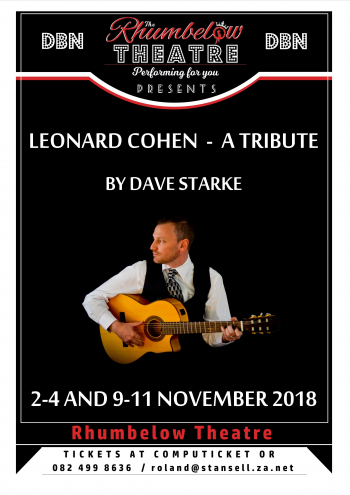 LEONARD COHEN – A TRIBUTE
2nd Nov 2018 - 11th Nov 2018
Starring
CompuTicket
Facebook Page
About The Show
RHUMBELOW THEATRE
42 Cunningham Rd, Umbilo
Presents
LEONARD COHEN – A TRIBUTE
written by Perran Hahndiek and performed by Dave Starke
FRIDAY 02 NOV 2018 Show starts 20.00
SATURDAY 03 NOV 2018 Show starts 20.00
SUNDAY 04 NOV 2018 Show starts 14.00
Venue opens 90 minutes before show for picnic dinner)
FRIDAY 09 NOV 2018 Show starts 20.00
SATURDAY 10 NOV 2018 Show starts 20.00
SUNDAY 11 NOV 2018 Show starts 14.00
Venue opens 90 minutes before show for picnic dinner)
Leonard Cohen died on 7 November 2016.
Leonard Cohen – A Tribute is an exploration of the life and works of the late Leonard Cohen. It features his music and poetry interspersed with anecdotes from his life and other literary writings. You can expect early hits such as Suzanne and So long Maryanne, the haunting Famous Blue Raincoat and Who By Fire?, lighter works such as Tower of Song as well as pieces from his final album You Want It Darker? That was released just before his death. The text for the show was researched and written by Perran Hahndiek and is performed by Dave Starke.
The show had its debut at The Rosebank Theatre in Cape Town where it was sold out for the duration of its run.
About the authors:
Perran Hahndiek is a writer and poet based in Cape Town. He studied political science at UCT and is a procedural advisor to the National Assembly in the South African Parliament.
Dave Starke is a singer and guitarist based KZN. He has performed in a number of festivals and shows throughout South Africa and abroad over the last 20 years. In 2016, he appeared on the first season of The Voice – South Africa. In addition to performing, Dave also composes music for film and television as well as running a non-profit performing arts school for underprivileged youth in southern Zululand.
Cohen – A Tribute has been staged at the following theatres:
The Rosebank Theatre, Cape Town
The Alma Café, Cape Town
Alexander Bar Cabaret, Cape Town
The Rhumbelow Theatre, Tina's
The Rhumbelow Theatre, PMB
The Rhumbelow Theatre, Durban
The House in Zululand, Eshowe
The Albany Cabaret – National Arts Festival, Grahamstown
And is scheduled to be performed at:
Pop Art Theatre, Maboneng, JHB – October 2018
The Cottage Club, Cape Town – December 2018
Some Feedback/comments:
"Raised in Cape Town, Starke is a smooth performer with a gentle guitar-playing style, who first impressed Rhumbelow Theatre audiences with his excellent Leonard Cohen tribute show, staged earlier this year after success in the Cape." Bill Suter
"Singer-guitarist Starke pays excellent tribute to Leonard Cohen, offering not only a well-researched history of the man, his poetry, music and achievements, but also insight into Cohen's thought processes. We also get various anecdotes, much interesting sideline info on the great poet and songwriter, and a lot of unexpected, dry humour. It is an elegant and captivating show, impressively lit by Sarah Claxon. It has the cool and confident Starke doing a great job with hits such a 'So Long Marianne', 'Suzanne', 'Sisters of Mercy', 'Hallelujah' and the moving 'The Treaty', as well as other hits and lesser-known material. Highly Recommended!" Bill Suter
"Dave Starke in 'Cohen - A Tribute' was the last scheduled show at the Rosebank Theatre, and one of the most brilliant. Quite simply Starke rocks!" William de Villiers
"On Friday evening (5th), Dave Starke had a once-off presentation of this show, here in Eshowe, prior to leaving for Cape Town.
Now you must understand. I've been a Leonard Cohen fanatic (fan doesn't quite cover it) since I was 9 years old (going on 50 years). I've heard so many covers of his songs, and even play and sing some myself (privately). Some of those versions have been really good. Yet, somehow, for me at least, they never quite catch what Leonard Cohen manages to portray with, as he puts it, his "golden voice".
Well, that having been said, here is some high praise indeed. Dave Starke does not, with one exception, attempt to make Cohen's songs his own. Rather, he seems to almost channel Leonard. The often raw emotion of Cohen's songs, and the depth of his lyrics, is right there.
As a tribute to the great Leonard Cohen, this show is excellent. You will learn interesting things about his life, and the stories behind the songs, but you will also feel the depth of emotion that is vital to any true rendition of Cohen's songs." Robin Bownes
Durban's Top Talent at the Rhumbelow Theatre.
R 150-00 a ticket
R 130-00 Pensioners (1ST weekend ONLY)
R 120-00 Loyalty cards
Contact Roland for large group booking discounts – 20 or more
Bring food picnic baskets.
Limited secure parking available
Booking is essential.
Braai facilities available.
Bar Available (no alcohol may be brought on to the premises)
Book at COMPUTICKET or email Roland for bookings and get that money rolling in.
Cell 0824998636
Email : roland@stansell.co.za
http://events.durbantheatre.com/
For showbiz news, reviews and interviews don't miss Billy Suter's Website at https://sosuterbill.com/