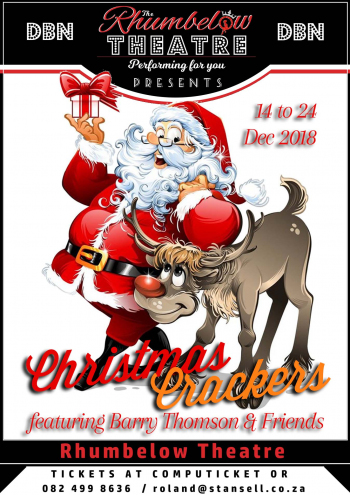 CHRISTMAS CRACKERS
14th Dec 2018 - 24th Dec 2018
Starring
Barry Thomson & Friends - Barry Thomson, Dawn Selby, Andy Turrell, Adrian Wilson & Marion Loudon
CompuTicket
Facebook Page
About The Show
RHUMBELOW THEATRE
42 Cunningham Rd, Umbilo
Presents
'CHRISTMAS CRACKERS'
Barry Thomson & Friends
Barry Thomson, Dawn Selby, Andy Turrell, Adrian Wilson & Marion Loudon
FRIDAY 14 DEC 2018 Show starts 20.00
SATURDAY 15 DEC 2018 Show starts 20.00
SUNDAY 16 DEC 2018 Show starts 14.00
MONDAY 17 DEC 2018 Show starts 14.00
Venue opens 90 minutes before show for picnic dinner)
FRIDAY 21 DEC 2018 Show starts 20.00
SATURDAY 22 DEC 2018 Show starts 20.00
SUNDAY 23 DEC 2018 Show starts 14.00
MONDAY 24 DEC 2018 Show starts 18.30
Venue opens 90 minutes before show for picnic dinner)
With only eight performances, enjoy an afternoon or evening of fun music and entertainment with Barry Thomson and Friends the Umbilo Rhumbelow Theatre. This show features Barry on guitar/vocals, Dawn Selby (Musical Director) on keyboards/vocals, Andy Turrell on bass guitar and Adrian Wilson on drums and percussion. The vivacious and super talented Marion Loudon, will be joining the band on vocals and percussion.
Following our crowd pleasing formula, our festive fare includes some jolly Christmas sing-a-long favourites and hit songs from Barry's and The Reals most popular tribute shows of 2018, including Fleetwood Mac, Dire Straits, Bad Company, Neil Diamond and British Invasion.
Come and celebrate Christmas with us!
Durban's Top Talent at the Rhumbelow Theatre.
R 150-00 a ticket
R 130-00 Pensioners (1ST weekend ONLY)
R 120-00 Loyalty cards
Contact Roland for large group booking discounts – 20 or more
Bring food picnic baskets.
Limited secure parking available
Booking is essential.
Braai facilities available.
Bar Available (no alcohol may be brought on to the premises)
Book at COMPUTICKET or email Roland for bookings and get that money rolling in.
Cell 0824998636
Email : roland@stansell.co.za
http://events.durbantheatre.com/
For showbiz news, reviews and interviews don't miss Billy Suter's Website at https://sosuterbill.com/