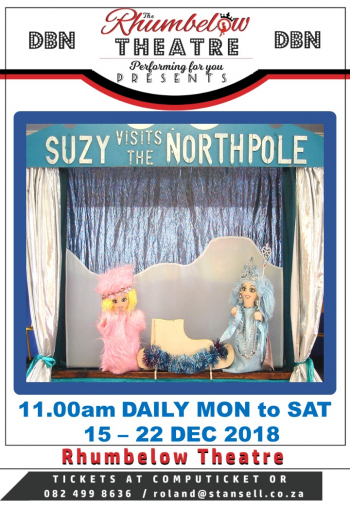 SUZY VISITS THE NORTH POLE
15th Dec 2018 - 22nd Dec 2018
Starring
Fun Puppet Pantomime with Aunty Mim Erasmus
CompuTicket
Facebook Page
About The Show
RHUMBELOW THEATRE
UMBILO, DURBAN
KIDS SHOW THIS XMAS HOLIDAY SEASON
SUZY VISITS THE NORTH POLE
Fun Puppet Pantomime with Aunty Mim Erasmus
11.00 SAT 15 DEC 2018
11.00 TUE 18 DEC 2018
11.00 WED 19 DEC 2018
11.00 THU 20 DEC 2018
11.00 FRI 21 DEC 2018
11.00 SAT 22 DEC 2018
Once again Mim and John are preparing to take the children on a magical, musical storytime journey.
This Puppet Pantomime, follows Suzy, Durban's favourite children's character, as she visits the North Pole to find Santa.
Suzy and Daddy are having a day out in the veld. Suzy asks Daddy where Santa lives, and if there are giraffes and elephants there. Daddy tells her that Santa lives at the North Pole.
Granny sings Suzy a lullaby and she falls asleep. The scene changes and Suzy finds herself at the North Pole. She meets a lost penguin, Jack Frost, Olav the Polar Bear, Mr. Magic Midnight and the beautiful Snow Queen before finding Santa who brings her home on his sleigh.
Was it a dream, or was it true ?
The perfect holiday delight for children of all ages, 4 to 400!!
Show Running time: +- 55 minutes. + COLOURING IN AND COMPETITION.
There will be some fun colouring in afterwards for the kids and a colouring in competition.
Snacks and juices will be on sale.
R 60-00 a ticket Book at COMPUTICKET or email Roland
Cell 0824998636
Email : roland@stansell.co.za
events.durbantheatre.com
For showbiz news, reviews and interviews don't miss Billy Suter's Website at https://sosuterbill.com/