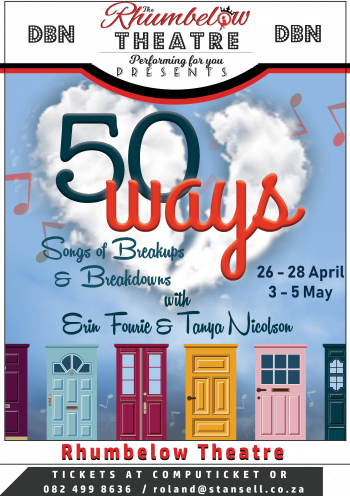 50 WAYS...... TO LEAVE YOUR LOVER
26th Apr 2019 - 5th May 2019
Starring
Erin Fourie & Tanya Nicolson, Musicans: Helen Vermaak & Daniel Rossouw. Directed by Peter Mitchell
CompuTicket
Facebook Page
About The Show
RHUMBELOW THEATRE
42 CUNNINGHAM RD, OFF BARTLE RD, UMBILO, DBN
Presents
50 WAYS...... TO LEAVE YOUR LOVER
Erin Fourie & Tanya Nicolson
Musicans: Helen Vermaak & Daniel Rossouw
Directed by Peter Mitchell
FRIDAY 26 APRIL 2019 Show starts 20.00 – DBN
SATURDAY 27 APRIL 2019 Show starts 20.00 – DBN
SUNDAY 28 APRIL 2019 Show starts 14.00 – DBN
(Venue opens 90 minutes before show for drinks)
FRIDAY 03 MAY 2019 Show starts 20.00 – DBN
SATURDAY 04 MAY 2019 Show starts 20.00 – DBN
SUNDAY 05 MAY 2019 Show starts 14.00 – DBN
(Venue opens 90 minutes before show for drinks)
50 WAYS...... TO LEAVE YOUR LOVER
Breakups, breakdowns, heartbreaks and breakaways!
There are, according to Paul Simon, 50 Ways to Leave Your Lover.
Top KZN songsters Erin Fourie and Tanya Nicolson explore the highs and lows of relationship endings, as seen through the eyes of songwriters over the last 50 years. What better way to recover from a breakup than to write a song about it? Popular music is filled with songs about separations, heartbreaks and good riddances. and these two ladies have made a collection of the best of them. From ABBA to Amy Winehouse, and from Tammy Wynette to Adele, with songs from Musicals thrown into the mix, all aspects of breakups, both painful and funny, are given a new twist and a dynamic new sound. Accompanied by top KZN musicians, Helen Vermaak and Daniel Rossouw, these ladies touch the heart and tickle the funny bone.
Fourie and Nicolson are both extremely well known on the KZN music circuit for their remarkable and unique vocal talents, and this is their first theatrical collaboration under the direction of veteran director Peter Mitchell.
Review:
50 WAYS TO ENTERTAIN
The Witness, 20 Sep 2018, Estelle Sinkins

REVIEW: 50 WAYS
(ART CENTRE, HILTON ARTS FESTIVAL)
"PAUL Simon may have sung a song about 50 Ways to Leave Your Lover, but I doubt he envisioned breaking up by WhatsApp." Tanya Nicolson's cheeky comment provides a hint for the treat in store in 50 Ways, which premiered at the Hilton Arts Festival.
Together with Erin Fourie, she explores how singers the world over have used music to express the pain, anger and acceptance of breaking up with the one you love.
Directed by Peter Mitchell, the show features a range of songs. Among the show's many stand out moments are Nicolson's beautiful versions of The Carpenters' Superstar (Don't You Remember You Told Me You Loved Me Baby) and Your House by Alanis Morissette; and Fourie's renditions of Tracy Chapman's Fast Car and Cry Me A River.
50 Ways marks Nicholson's return to her musical theatre roots. Fourie, meanwhile, has starred in The Sound of Music and several of Mitchell's shows at the Hexagon Theatre and the Hexagon Dive.
Together these two vocal talents, accompanied by guitarist Daniel Rossouw and pianist Helen Vermaak, deliver a must-see show.
TOP KZN TALENT AT THE RHUMBELOW
R 150-00 a ticket
(R 130-00 Pensioners)
(R 130-00 Students with a valid student card)
(Under 13 - R 75-00)
DISCOUNTS 1ST WEEKEND ONLY
Loyalty Card Holders (R 120-00) ALL SHOWS
Contact Roland for large group booking discounts – 20 or more
Bring food picnic baskets.
Bar available (no alcohol may be brought on to the premises)
Limited secure parking available.
Booking is essential.
Book at Computicket or e-mail Roland for bookings and get that money rolling in:
Cell: 082 499 8636
E-mail: roland@stansell.co.za
http://events.durbantheatre.com
For showbiz news, reviews and interviews don't miss Billy Suter's Website at https://sosuterbill.com/