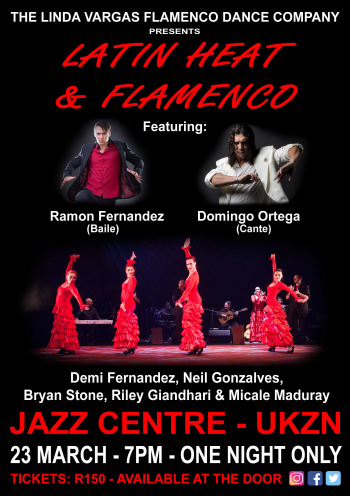 Latin Heat & Flamenco
23rd Mar 2019 - 23rd Mar 2019
Starring
Linda Vargas Flamenco Dance Company
About The Show
Latin Heat & Flamenco
Linda Vargas Flamenco Dance Company
23 March 2019
For one show only on Saturday the 23 March 2019, The Linda Vargas Flamenco Dance Company brings together international and local artists of the highest calibre for a performance entitled Latin Heat & Flamenco at the UKZN's Centre for Jazz and Popular Music.
Flamenco, in its purist form comprises of three elements: dance (baile), singing (cante) and guitar (guitarra). Latin Heat & Flamenco features dancing by the Linda Vargas Flamenco Dance Company with a return of our very special guest artist from Spain: Ramon Fernandez (son of Linda Vargas and Demi Fernandez and member of the company) who is currently making a name for himself dancing in Spain, brings his powerfully inimitable style to the evening. Ramon will be accompanied by the true flamenco "cante" (singing) of internationally acclaimed performer Domingo Ortega. Domingo was born in Jerez de la Frontera, Spain and his performance with Ramon is a coup for Durban audiences. Domingo grew up surrounded by flamenco and is regarded as one of Spain's finest performers. He has toured with his own company since 1995 and continues to perform in Spain as well as around the world in countries such as Italy, Japan, Venezuela, Israel, and Russia, Senegal (where he has been named a citizen of honour). This will be his first performance as cantaor in South Africa.
Providing the music will be an awe inspiring line up of musicians of international acclaim. Flamenco Guitar maestro Demi Fernandez has spent many years living and performing in Flamenco Tablaos in Spain will and has appeared as leading flamenco guitarist with numerous South African and international Spanish Dance Companies. As resident guitarist for the Linda Vargas Flamenco Dance Company, he is joined by long time collaborator Neil Gonsalves on piano and Martin Sigamoney, (sax and flute) Bryan Stone, (percussion) Riley Giandhari (drums) and Micale Maduray (bass), who provide the musical soul that infuses the entire performance in not only the dance but also some awe inspiring Latin, Jazz and Flamenco fusion musical items.
With their high level of performance innovation, creativity and professionalism the Linda Vargas Flamenco Dance Company, who celebrated their 35th Anniversary in 2018, continue to build a loyal and extensive following of Spanish dance in South Africa – this once off performance in the intimacy of UKZN's Jazz Centre is sure to be the hottest ticket in town.
Latin Heat and Flamenco runs at the Centre for Jazz and Popular Music on the UKZN's Howard College for one performance only on Saturday the 23rd March 2019 at 7pm. Ticket prices are R150 each and will only be on sale for cash at the door on the night of the performance – entrance will be on strictly first come first serve basis.