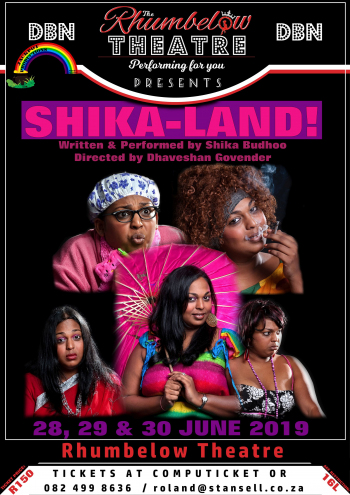 SHIKA-LAND!
28th Jun 2019 - 30th Jun 2019
Starring
Written and performed by Shika Budhoo. Directed by Dhaveshan Govender
CompuTicket
Facebook Page
About The Show
RHUMBELOW THEATRE
42 CUNNINGHAM RD, OFF BARTLE RD, UMBILO, DBN
Presents
SHIKA-LAND!

Written and performed by Shika Budhoo
Directed by Dhaveshan Govender
FRIDAY 28 JUNE 2019 Show starts 20.00 – DBN
SATURDAY 29 JUNE 2019 Show starts 20.00 – DBN
SUNDAY 30 JUNE 2019 Show starts 14.00 – DBN
(Venue opens 90 minutes before show for drinks)
SHIKA-LAND! is coming to Durban this June!
SHIKA-LAND! is a one-woman-show that delves into the lives of ordinary women from around the globe. Written and performed by Shika Budhoo and directed by Dhaveshan Govender, the piece is about 5 different women all named SHIKA!
Almost everyone's done it – Googled or FaceBooked their names just to see what comes up. The results, depending on how common your name is, are populated by a variety of people across the globe.
Shika-land! explores the lives of five different women one from South Africa (herself), a mother from Trinidad, a girlfriend from France, hairdresser from England and a bride to be from India. Interspersed with song, each Shika is presented in her own monologue, where she allows us a glimpse into her world. Through these intimate encounters we are given insight into arranged marriage, single parenting, woman abuse, infidelity and scandal, while posing the question "does our name fit our character or does our character fit our name"?
SHIKA-LAND! is an 'everywoman' story with a host of colourful characters authentically portrayed by Budhoo. Shika-Land! made its debut at The Musho! International Theatre Festival and got rave reviews from established theatre practitioners as well as theatre lovers; and went on to be performed at The National Arts Festival in Grahamstown, The I Heart Durban Theatre Festival as well as The South African Women's Arts Festival, PopART in Johannesburg and various private and corporate functions.
These intimate stories will take you on a rollercoaster of emotion, shedding tears one moment, and roaring with laughter in the next.
"…utterly authentic on stage…" - Gisele Turner
"…she deftly elicits pathos and humour from each of her portrayals." - Anthony Thoms "..her accents are top dollar." - Stavros Anthias
"THIS IS A MUST SEE!"- Roland Stansell
Durban's Top Talent at the Rhumbelow Theatre
R 150-00 a ticket
(R 130-00 Pensioners)
(R 130-00 Students with a valid student card)
(Under 13 - R 75-00)
Loyalty Card Holders (R 120-00) ALL SHOWS

Contact Roland for large group booking discounts – 20 or more
Bring food picnic baskets.
Bar available (no alcohol may be brought on to the premises)
Limited secure parking available.
Booking is essential.
Book at Computicket or e-mail Roland for bookings and get that money rolling in:
Cell: 082 499 8636
E-mail: roland@stansell.co.za
http://events.durbantheatre.com
For showbiz news, reviews and interviews don't miss Billy Suter's Website at https://sosuterbill.com/