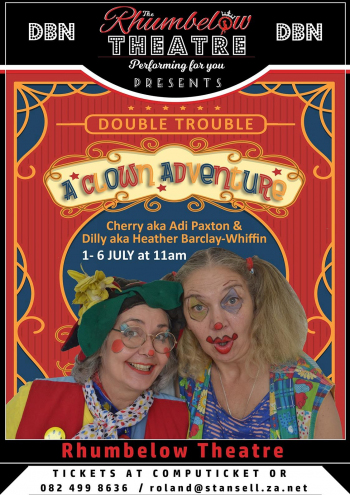 DOUBLE TROUBLE - A Clown Adventure
1st Jul 2019 - 6th Jul 2019
Starring
Cherry aka Adi Paxton & Dilly aka Heather Barclay-Whiffin
CompuTicket
Facebook Page
About The Show
RHUMBELOW THEATRE
UMBILO, DURBAN
DOUBLE TROUBLE - A Clown Adventure
Cherry aka Adi Paxton & Dilly aka Heather Barclay-Whiffin
SHOW & COLOURING-IN COMPETITION
11.00 MON 01 JULY 2019
11.00 TUE 02 JULY 2019
11.00 WED 03 JULY 2019
11.00 THU 04 JULY 2019
11.00 FRI 05 JULY 2019
11.00 SAT 06 JULY 2019
The kiddies are in for a treat this June/July Holidays with DOUBLE TROUBLE – A Clown Adventure coming to Durban's Rhumbelow Theatre!
Two of Durban's favorite clowns have teamed up for a zany new show.
Cherry aka Adi Paxton and Dilly aka Heather Barclay-Whiffin have joined forces in an interactive adventure.
In their story the audience help Cherry the clown to help rescue Dilly: With riddles, magic tricks and plenty of fun.
Can they see through his disguises, solve all the riddles and make sure that the plans of Malevelo the Mad Magician are undone?
Bring your thinking hats and join us at the Rhumbelow to find out.
Both Adi and Heather have worked as professional entertainers in different fields but specialized with children for many years;
Heather has had much more Panto. experience while Adi has done magic, puppetry and radio too.
Both have backgrounds in education, and are further linked as magiciennes and members of The South African Magical Society as well as through their work as hospital care clowns.
"With all this in common its not surprising the audience have got us confused on occasion.
Clowns are easily confused!" They say.
Each brings her unique talents and their combined skills to this fresh project to entertain families in their own inimitable ways.
Come along and enjoy the Fun.
The perfect holiday delight for children of all ages, 4 to 400!!
Show Running time: +- 55 minutes. + COLOURING IN COMPETITION.
Snacks and juices will be on sale.
R 75-00 a ticket Book at COMPUTICKET or email Roland
Cell 0824998636
Email : roland@stansell.co.za
events.durbantheatre.com
For showbiz news, reviews and interviews don't miss Billy Suter's Website at https://sosuterbill.com/