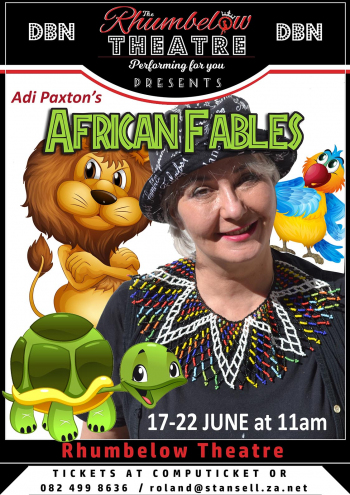 AFRICAN FABLES
17th Jun 2019 - 22nd Jun 2019
Starring
Adi Paxton
CompuTicket
Facebook Page
About The Show
RHUMBELOW THEATRE
UMBILO, DURBAN
AFRICAN FABLES
with Adi Paxton
SHOW & COLOURING-IN COMPETITION
11.00 MON 17 JUNE 2019
11.00 TUE 18 JUNE 2019
11.00 WED 19 JUNE 2019
11.00 THU 20 JUNE 2019
11.00 FRI 21 JUNE 2019
11.00 SAT 22 JUNE 2019
The kiddies are in for a treat this June/July Holidays with AFRICAN FABLES
Well known Durban Children's entertainer Adi Paxton (best know as Cherry the Clown) takes the role of storyteller as she shares three traditional African Fables, With a lot of audience participation, puppetry, balloons, a few magic tricks and plenty of fun each show allows the audience to enjoy these traditional tales to the full.
The three tales:The Tortoise and the Birds (Swazi), The Monster Gongongo and the Tortoise (Swazi) and uFudu and the iJuba, the Dove (Zulu) each tell of a different aspect of the Tortoise. Subtle lessons are woven into the fabric of each story and the characters with a focus on plenty of fun using hats, wigs, puppets and a lot of imagination.
Some of the most unexpected characters contribute: from a giant fish, to a lion, to a parrot.
To find out and explore these old stories in a new way and to discover your favourite join us at the Rhumbelow Theatre, Umbilo.
Show Background:
Adi did a solo version as Tortoise Tales at Botanic Gardens then worked with Pamela Tancsik to perform as African Fables at the International Puppet Festival in Austria in 2001.
Then was funded by NAC to set up a team directed by Brenda Lauth that included Pamela Tancsik and Zanele Mzolo and Adi Paxton. They performed on the Main at the Grahamstown National Arts Fest in 2004 along with her Pet's Tale.
But Adi will perform it as a solo storytelling show as she has occasionally done at schools.
About Adi:
A professional performer since 1986, Adi first developed her Cherry the Clown Character that July and she started performing one woman interactive puppet stories with her original Pet's Tale in 1994. She has since gone on to perform nationally and Internationally for audiences of all back grounds, from prisoners to presidents. Her shows particularly appeal to families and the young at heart: Often using humour and magic.
"Its an absolute joy to create a wonderful shared story experience with young audiences. To see their faces light up and enjoy their chance to join in" She says.
Come along and enjoy the Fun.
The perfect holiday delight for children of all ages, 4 to 400!!
Show Running time: +- 55 minutes. + COLOURING IN COMPETITION.
Snacks and juices will be on sale.
R 75-00 a ticket Book at COMPUTICKET or email Roland
Cell 0824998636
Email : roland@stansell.co.za
events.durbantheatre.com
For showbiz news, reviews and interviews don't miss Billy Suter's Website at https://sosuterbill.com/