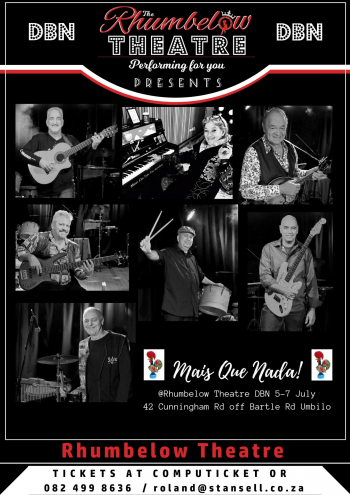 MAIS QUE NADA!
5th Jul 2019 - 7th Jul 2019
Starring
Johnny Casquinha, Nicole Couto-Leite, John Skuy, Johan van der Merwe, Richard Ellis, Tony Fisher, Graham Ellis.
CompuTicket
Facebook Page
About The Show
RHUMBELOW THEATRE
42 CUNNINGHAM RD, OFF BARTLE RD, UMBILO, DBN
Presents
MAIS QUE NADA!

FRIDAY 05 JULY 2019 Show starts 20.00 – DBN
SATURDAY 06JULY 2019 Show starts 20.00 – DBN
SUNDAY 07 JULY 2019 Show starts 14.00 – DBN
(Venue opens 90 minutes before show for drinks)
LATINO LATINO LATINO LATINO LATINO
Echoes of "Bueno Vista Social Club" reverberate....
The beautiful men and women of "MAIS QUE NADA SHOW BAND" once again bring you the delightful and movement inspiring sounds of Portugal, Cuba, Brazil, Spain and Africa all rolled up into one power-packed show at the fabulous Rhumbelow Theatre in Umbilo, Durban.
For the first time in many years the original band line-up, plus a new face or two, will perform at The Rhumbelow from 5-7 July 2019.
We are ready, we look forward....bring your best self and don't forget to stretch a little before the show just in case :)
BAND MEMBERS:
Johnny Casquinha – Lead Vocals / Guitar
Nicole Couto-Leite – Backing Vocals / Piano
John Skuy - Vocals / Bass Guitar
Johan van der Merwe - Percussion
Richard Ellis – Backing Vocals / Percussion
Tony Fisher – Backing Vocals / Violin / Madolin
Graham Ellis – Vocals / Guitar
Durban's Top Talent at the Rhumbelow Theatre
R 150-00 a ticket
(R 130-00 Pensioners)
(R 130-00 Students with a valid student card)
(Under 13 - R 75-00)
Loyalty Card Holders (R 120-00) ALL SHOWS

Contact Roland for large group booking discounts – 20 or more
Bring food picnic baskets.
Bar available (no alcohol may be brought on to the premises)
Limited secure parking available.
Booking is essential.
Book at Computicket or e-mail Roland for bookings and get that money rolling in:
Cell: 082 499 8636
E-mail: roland@stansell.co.za
http://events.durbantheatre.com
For showbiz news, reviews and interviews don't miss Billy Suter's Website at https://sosuterbill.com/