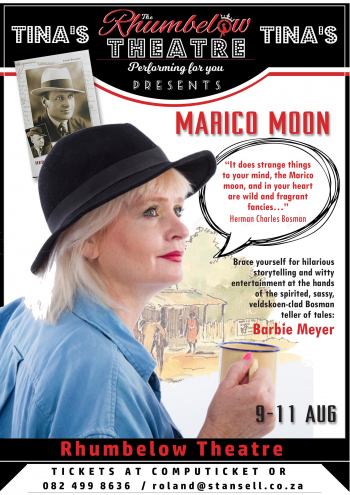 MARICO MOON - Herman Charles Bosman
9th Aug 2019 - 11th Aug 2019
Starring
Compiled & performed by Barbie Meyer Directed by Marke Meyer
CompuTicket
Facebook Page
About The Show
RHUMBELOW THEATRE
Tina's Hotel, 14 Beryldene Rd, Kloof
Presents
MARICO MOON
Compiled & performed by Barbie Meyer
Directed by Marke Meyer
FRIDAY 09 AUG 2019 8.00PM – TINA'S
SATURDAY 10 AUG 2019 8.00PM – TINA'S
SUNDAY 11 AUG 2019 2.00PM - TINA'S
(Venue opens 90 minutes before show for drinks)
(For Restaurant reservations please contact 031 764 7843)
"It does strange things to your mind, the Marico moon, and in your heart are wild and fragrant fancies…" Herman Charles Bosman
Brace yourself for hilarious storytelling and witty entertainment at the hands of the spirited, sassy, veldskoen-clad Bosman teller of tales: Barbie Meyer.
Compiled & performed by Barbie Meyer
Directed by Marke Meyer.
"Marico Moon" is Meyer's eagerly awaited sixth show on one of S.A.'s finest literary masters: Herman Charles Bosman.
"His work gets under your skin – I've been hooked since I was a little girl. And after Celebrate Women's Day this August with this one-woman comedic play entitled, Marico Moon.
This is Barbie Meyer's eagerly awaited sixth show on one of S.A.'s finest literary masters: Herman Charles Bosman.
Herman Charles Bosman (1905-1951) was a South African writer and journalist who became famous for capturing the rhythms of backveld Afrikaans speech even though he wrote in English. He is widely regarded as the greatest short story writer to come out of this country. His books are some of the finest in the field of South-African literature.
Whether you have read Bosman's works or not, Meyer's compilation of his stories in "Marico Moon" will no doubt delight and surprise you. It is challenging, delightfully written and eminently entertaining.
Meyer has succeeded in mastering the distinctive flat accent of the Groot Marico. Her use of pauses and impeccable comedic timing are what sets her apart as a top storyteller – "despite being a woman", she laughs, "boy, have I heard that a number of times!"
Her unpretentious style, tangible passion for these stories and love for this genre of storytelling simply oozes out of her every pore when she is on the stage, pulling the audience right into the veld with her.
Meyer has been recognised as something of a Bosman fundi and has performed her plays at many venues, festivals and intimate settings around the country.
Jacques Sellschop, who for several years was the presenter of the weekly Arts and Culture programme Galaxy on SABC Television had this to say about Barbie's performance:
"Having greatly admired Patrick Mynhardt's iconic interpretations of the Bosman stories, I had reservations about a female challenging the role. More especially so since the lady in question was an attractive young blonde with a refined English accent that would not raise a single eyebrow at the annual Windsor Castle garden party.
But despite having neither the roughhewn exterior of Mynhardt's character nor the naturally coarse, serrated edges of his enunciation, Barbie Meyer kept her audience enthralled with her sheer energy and consummate dramatic skill. The piece she compiled was demanding in substance, yet she did not falter once in delivering it. From the outset she revealed a range of facial expressions, tonal varieties and gifts for gesture and mime that more than made up for the absence of elaborate stage and costume props.
Her fine sense of dramatic pause and climax brought emphasis to the sly innuendo and the irreverent humour that is the essence of the Bosman narrative."
We asked Barbie about her role:
You're an English woman playing an Afrikaans man – does it work?!
I would like to believe so. I think the fact that we specifically don't try to hide the fact that I am a woman, is a fresh and contemporary take on his work. My gestures, accents and conversation I hope are believable and man-like – thanks to my tenacious and director.
The whole 'girl thing' has certainly been a conversation point at many of my Grahamstown Festival performances. In one delightful crit the caption was: "…the protected male turf of Herman Charles Bosman was plundered by a woman… she did the job admirably. This play shows that women can do anything men can do. Even play Oom Schalk Lourens."
This is now the sixth play that you have compiled on Herman Charles Bosman and his short stories – why him?
I simply love his wit and his style of writing. There is nothing more wonderful and more captivating than a good story well told. I also love that he knows exactly "which part of the story to leave out!"
Storytelling is literally as old as mankind – a wonderful tradition that allows you to create your own pictures in your mind…and a beautiful tradition to pass on.
His work gets under your skin – I've been hooked since I was a little girl. And after every show I do I'm always left wanting to explore just a little more, wanting to re-read and share just one more story or poem which yells to be performed out loud...and it's better to be addicted to Bosman than to say, blue-top or sniffing glue say I!
I work on other theatrical pieces and concepts but always seem to come home to Bosman's work.
I love the moon in all its guises and this has always been a strong thread in Bosman's work – so it seemed a natural angle for me take in this new Show – I can't wait to share it with you.
TOP KZN TALENT AT THE RHUMBELOW
(R 130-00 Pensioners & FHSSC Members)
Contact Roland for large group booking discounts – 20 or more
Tickets are CASH or EFT ONLY
Secure Parking is available.
(PLEASE NOTE -no alcohol or food may be brought on to the premises)
Book at Computicket or email Roland for bookings and get that money rolling in.
Cell 0824998636
Email: roland@stansell.co.za
Website: https://events.durbantheatre.com/
Tina's Restaurant - www.tinashotel.co.za/
Booking is essential for Tina's Restaurant as seating is limited – 031 764 7843
We recommend that you arrive no later than 120 min before show time for the Restaurant.
A-la-Carte menu available.
EVENING BUFFET – R 120-00 per head (show bookings)
SUNDAY ROAST BUFFET – R 120-00 (Desert separate)
Please indicate that you are a theatre booking when making your reservation.
Payment for Restaurant – CASH, CREDIT CARD or ZAPPER
Full Bar Available
For showbiz news, reviews and interviews don't miss Billy Suter's Website at https://sosuterbill.com/