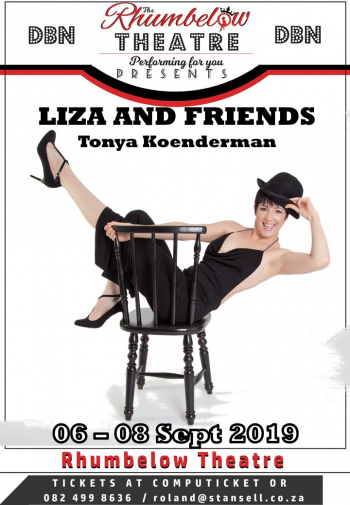 LIZA AND FRIENDS
6th Sep 2019 - 8th Sep 2019
Starring
Tonya Koenderman
About The Show
RHUMBELOW THEATRE
42 CUNNINGHAM RD, OFF BARTLE RD, UMBILO, DBN
Presents
LIZA AND FRIENDS!
Tonya Koenderman
FRIDAY 06 SEP 2019 Show starts 20.00 – DBN
SATURDAY 07 SEP 2019 Show starts 20.00 – DBN
SUNDAY 08 SEP 2019 Show starts 14.00 – DBN

(Venue opens 90 minutes before show for drinks)
Well known international cabaret sensation, Tonya Koenderman Returns to Durban with her latest creation Liza and Friends.
Tonya is most well known for her tribute to the great Liza Minnelli titled, "Liza with a T" which she has performed all over the world to standing ovations and rave reviews. In this show, Tonya wanted to include some of the other great divas of all time as well, the great ladies of song that may not always prove to be too perfect, but we love them all the same. "Most of these artists have in some way impacted my style of performance", Tonya said, "and are the reason why I fell in love with the stage all those many years ago."
Tonya adds her own spice and sass to the likes of Shirley Bassey, Barbra Streisand, Tina Turner, Nina Simone, Edith Piaf and others. And she dishes the dirt on them all! Miss Streisand is a bitch to work with, Bassey drinks like a fish. Nina Simone likes to aim guns at anyone who pisses her off, and occasionally fires them too. And of course, dear Liza, Tonya's favourite of them all, has done more shows drunk than sober.
All this gossip is mentioned, however, with absolute love for these artists, as Tonya is quick to acknowledge, "We are all just people doing the best we can, trying to make our way in this crazy world."
Liza and Friends promises to be a feast of classics: Cabaret, All That Jazz, New York New York, Diamonds Are forever, Big Spender, Don't rain on my Parade, Nutbush City Limits, Simply the Best, Feeling Good, and others.
Durban's Top Talent at the Rhumbelow Theatre
R 150-00 a ticket
(R 130-00 Pensioners)
(R 130-00 Students with a valid student card)
(Under 13 - R 75-00)
Loyalty Card Holders (R 120-00) ALL SHOWS

Contact Roland for large group booking discounts – 20 or more
Bring food picnic baskets.
Bar available (no alcohol may be brought on to the premises)
Limited secure parking available.
Booking is essential.
Book at Computicket or e-mail Roland for bookings and get that money rolling in:
Cell: 082 499 8636
E-mail: roland@stansell.co.za
http://events.durbantheatre.com
For showbiz news, reviews and interviews don't miss Billy Suter's Website at https://sosuterbill.com/