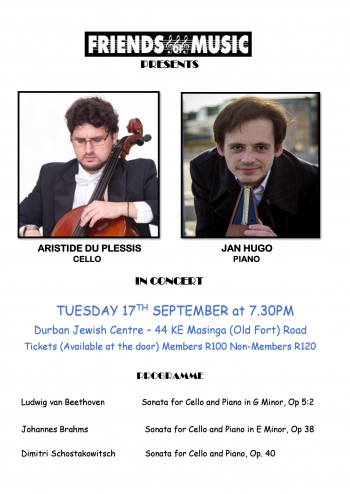 ARISTIDE DU PLESSIS & JAN HUGO
17th Sep 2019 - 17th Sep 2019
Starring
ARISTIDE DU PLESSIS (CELLO) and JAN HUGO (PIANO) IN CONCERT
Facebook Page
About The Show
FRIENDS OF MUSIC
PRESENTS
ARISTIDE DU PLESSIS (CELLO) and JAN HUGO (PIANO) IN CONCERT
TUESDAY 17TH SEPTEMBER at 7.30PM
Durban Jewish Centre – 44 KE Masinga (Old Fort) Road
Tickets (Available at the door) Members R100 Non-Members R120
PROGRAMME
Ludwig van Beethoven Sonata for Cello and Piano in G Minor, Op 5:2
Johannes Brahms Sonata for Cello and Piano in E Minor, Op 38
Dmitri Shostakovich Sonata for Cello and Piano, Op. 40
Aristide du Plessis
Born in Durban, 1989, Aristide du Plessis has established a reputation as one of South Africa's leading cellists, both as a soloist and chamber musician. As a soloist he has performed since the age of 15 with all South Africa's leading orchestras. He has also performed in some of the world's most renowned concert halls ranging from the Zürich Tonhalle and Vienna Musikverein to the Herkulessaal in Munich, Wiener Konzerthaus and the Berliner Philharmonie.
A graduate of the University of Cape Town he was awarded a scholarship from the prestigious Oppenheimer Memorial Trust which enabled him to further his studies at the Zürich University of the Arts. He has won numerous prizes in competitions such as the Kiwanis Chamber Music Prize (Switzerland), ATKV Musiq, FMR/Nussbaum and the Stellenbosch National Ensemble Competition (1st Prize, Axiom Piano Trio), Since his return to South Africa in April 2015, he has been Co-Principal Cellist with the KZN Philharmonic Orchestra.
Jan Hugo
Jan Hugo was born in South Africa and started his musical education at the age of 7 in Pretoria. He made his debut at 12 years old with the orchestra playing Saint-Saëns' 5th piano concerto on a tour throughout South Africa. At 13 years old, Jan moved to Italy , where he studied under Francesco Cipolletta in Modena He was also a student of the Accademia Pianistica Internationale "Incontri col Maestro" in Imola. Jan furthered his studies in Leipzig, Germany at the Hochschule für Musik und Theater "Mendelssohn Bartholdy". Performances in major concert halls and festivals throughout Europe, include the Queen Elizabeth Hall and St. Martin in the Fields (London), the Tivoli Vredenburg Hall (Utrecht, Netherlands), MITO festival (Milan and Turin), Sala Mozart (Bologna). He has been a soloist with all the top South African Orchestras and is a regular guest at all the major music associations in the country. Jan is also interested in historical instruments and regularly gives recitals on 19th century pianos.