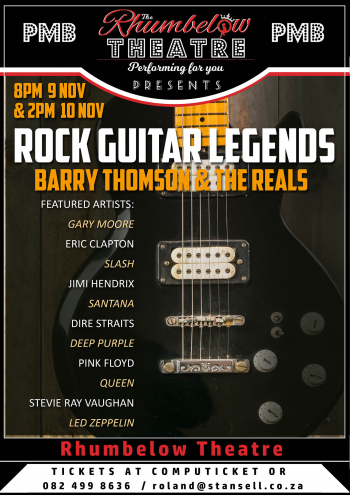 ROCK GUITAR LEGENDS
9th Nov 2019 - 10th Nov 2019
Starring
Barry Thomson & The Reals - Dawn Selby, Mali Sewell & Jason Andrew
CompuTicket
Facebook Page
About The Show
RHUMBELOW THEATRE
Allan Wilson Shellhole, Alan Paton Rd, PMB
Presents
ROCK GUITAR LEGENDS

Barry Thomson &
The Reals - Dawn Selby, Mali Sewell & Jason Andrew
SATURDAY 09 NOV 2019 Show Starts 20.00
SUNDAY 10 NOV 2019 Show starts 14.00
(Venue opens 90 minutes before show for picnics & drinks)
THIS SHOW WILL ALSO RUN AT RHUMBELOW DURBAN 25 OCT - 03 NOV 2019
'Rock Guitar Legends' pays tribute to some of the greatest guitar players of all time with the focus mainly on the classic rock guitarists of the 60s, 70s, and 80s eras. The show features a variety of guitar styles ranging from Hank Marvin to Jimi Hendrix. Also highlighted are the distinctive playing styles and sounds of Eric Clapton, Mark Knopfler (Dire Straits), Stevie Ray Vaughan, Jimmy Page (Led Zeppelin) and Slash (Guns 'n Roses).
Leading the team of top Durban musicians is maestro Barry Thomson on guitar and vocals, Musical Director Dawn Selby on keyboards and vocals, Mali Sewell on drums and Jason Andrew on bass guitar and vocals. The Reals will take you on a journey full of hit songs, nostalgia, fun, and top class playing. Also featured are David Gilmour (Pink Floyd), Santana, Ritchie Blackmore (Deep Purple) and the soulful Gary Moore.
If you're a classic rock fan, then this is the show for you!
Durban's Top Talent at the Rhumbelow Theatre.
R 150-00 a ticket
(R 130-00 Pensioners)
Loyalty Card Holders (R 120-00)
Contact Roland for large group booking discounts – 20 or more
Limited secure parking available Booking is essential.
Bar Available (no alcohol may be brought on to the premises)
Book at COMPUTICKET or email Roland for bookings and get that money rolling in.
Cell 0824998636
Email : roland@stansell.co.za
events.durbantheatre.com
For showbiz news, reviews and interviews don't miss Billy Suter's Website at https://sosuterbill.com/