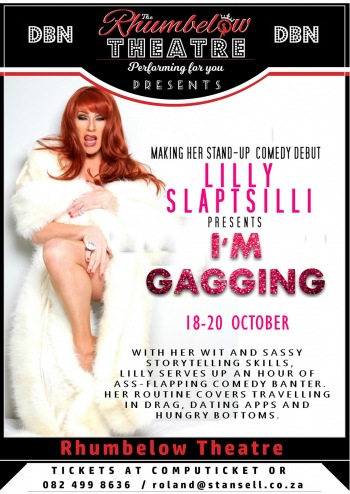 I'M GAGGING
18th Oct 2019 - 20th Oct 2019
Starring
DRAG ENTERTAINER, LILLY SLAPTSILLI
CompuTicket
Facebook Page
About The Show
RHUMBELOW THEATRE
42 CUNNINGHAM RD, OFF BARTLE RD, UMBILO, DBN
Presents
I'M GAGGING
DRAG ENTERTAINER, LILLY SLAPTSILLI
PLEASE NOTE THAT DUE TO LOAD SHEDDING OUR SUNDAY SHOW WILL NOW START AT 4.30 PM
FRIDAY 18 OCT 2019 Show starts 20.00 – DBN - SOLD OUT
SATURDAY 19 OCT 2019 Show starts 20.00 – DBN
SUNDAY 20 OCT 2019 Show starts NOW 16.30 – DBN
(Venue opens 90 minutes before show for drinks)
Willing to take a bold risk DRAG ENTERTAINER, LILLY SLAPTSILLI , has taken almost 22 years to grow a pair as she makes her stand-up debut in a camp, comical romp entitled , I'M GAGGING.
With her observational humour and lively storytelling skills, she presents an unrelenting, ass-flapping evening of humour. Sitting somewhere between comedy theatre, and performance art. Someone like LILLY could rise to popularity as a kitschy-comedy-queen-slash-earnest- webcam model comedy routine tackles topics like bumming bergies, Uber drivers and hungry bottoms. The Word on the curb tells us Slaptsilli holds no punches as she gets loose lipped about dark rooms, insomnia and 1st time flyers.
Let Lilly tickle your funny bone performing at The Rhumbelow Theatre.
Durban's Top Talent at the Rhumbelow Theatre
R 150-00 a ticket
NO DISOUNTS FOR THIS SHOW
PG - AGES 18 & OVER
Contact Roland for large group booking discounts – 20 or more
Bring food picnic baskets.
Bar available (no alcohol may be brought on to the premises)
Limited secure parking available.
Booking is essential.
Book at Computicket or e-mail Roland for bookings and get that money rolling in:
Cell: 082 499 8636
E-mail: roland@stansell.co.za
http://events.durbantheatre.com
For showbiz news, reviews and interviews don't miss Billy Suter's Website at https://sosuterbill.com/