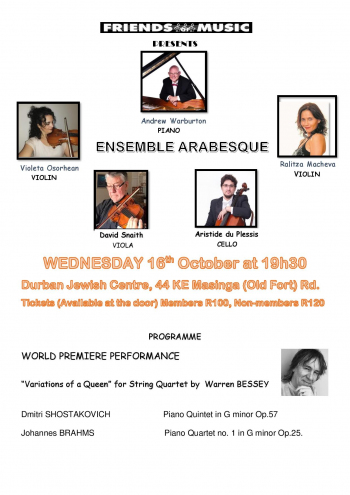 ENSEMBLE ARABESQUE
16th Oct 2019 - 16th Oct 2019
Starring
Andrew Warburton, Violeta Osorhea, David Snaith, Aristide du Plessis & Ralitza Macheva
About The Show
FRIENDS OF MUSIC
PRESENTS
Andrew Warburton Piano
Violeta Osorhean Violin
David Snaith Viola
Aristide du Plessis Cello
Ralitza Macheva Violin
IN A WORLD PREMIERE PERFORMANCE OF:
"Variations of a Queen" for String Quartet by Warren Bessey
WEDENESDAY 16TH OCTOBER AT 19H30
Durban Jewish Centre, 44 KE Masinga Road
Tickets (Available at the door) Members R100 Non Members R120
For more information contact Keith on 0715051021 or friendsofmusic@mweb.co.za
Warren Bessey is a Canadian born resident of South Africa. He is a composer, writer, producer of music, both symphonic and for a wide variety of media, including radio, television, advertising and film as well as a behaviour change communication specialist, children's author and publisher and lecturer His productions have achieved national and international accolades. His is a journey of many years and vast cross-cultural, multi-national experience. Absolutely passionate about excellence and musical truth which he demands of himself and others, his motto: "it's not how it sounds but how it makes you feel which separates the good from the outstanding."
Andrew Warburton is acknowledged as one of the finest solo pianists and accompanists in South Africa. He is presently Lecturer in Piano, Director of the Opera School and Choral Academy, and head of Western Classical Performance Studies at the UKZN School of Music.
Violeta Osorhean was born in Timisoara, Romania. After her university studies she played for eight years in the National Opera Orchestra-Cluj Napoca, then joined the Transylvania
Philharmonic Orchestra and toured Europe, Japan and the USA. Violetta is currently the Associate Concert-Master for the KZN Philharmonic
David Snaith was born in England. He held Principal Viola positions with The Royal Opera House Covent Garden, The Welsh National Opera, The Bournemouth Symphony Orchestra, The National Opera of Belgium, and the Cape Philharmonic Orchestra. He was appointed Principal Viola of The KwaZulu-Natal Philharmonic in 2009.
Aristide du Plessis was born in Durban in 1989. He has established a reputation as one of South
Africa's leading cellists, both as a soloist and chamber musician. As a soloist he has performed since the age of 15 with all South Africa's leading orchestras. A graduate of the University of Cape Town he furthered his studies at the Zürich University of the Arts. Since his return to South Africa in April 2015, has been the Co-Principal Cellist with the KZN Philharmonic Orchestra.
Ralitza Macheva was born in Pleven, Bulgaria. After graduating with Master Degrees in Music from Music Academy in Sofia, Bulgaria and the Music Conservatorium in Enschede, Netherlands, she worked as Principal Violin in the chamber group "Amadeus" in Seoul, South Korea. Returning to Bulgaria a few years later she was appointed as an Associate Concertmaster of Pleven Philharmonic Orchestra . Since 2000 she has been the Co-Principal Second Violin for the KZNPO. She is keenly interested in baroque period music and is the concertmaster for the Baroque 2000 Orchestra in Durban, and also works in close collaboration with the baroque ensemble, Tinta Baroka, in Cape Town.
ALSO ON THE PROGRAMME
Dmitri SHOSTAKOVICH (1906 – 1975) Piano Quintet in G minor Op.57
Johannes BRAHMS (1833 -1897) Piano Quartet no. 1 in G minor Op.25.