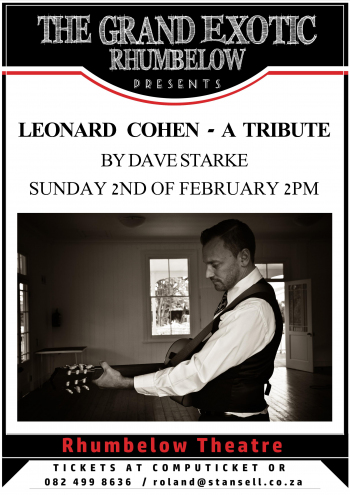 LEONARD COHEN - A TRIBUTE
2nd Feb 2020 - 2nd Feb 2020
Starring
written by Perran Hahndiek and performed by Dave Starke
CompuTicket
Facebook Page
About The Show
THE GRAND EXOTIC RHUMBELOW THEATRE
Sheffield Beach Rd, Sheffield Beach
Presents
LEONARD COHEN – A TRIBUTE
written by Perran Hahndiek and performed by Dave Starke
SUNDAY 02 FEBRUARY 2020 2.00PM – THE GRAND EXOTIC
(Venue opens 90 minutes before show for finger snacks & drinks)
Cohen – A Tribute is an exploration of the life and works of the late Leonard Cohen. It features his music and poetry interspersed with anecdotes from his life and other literary writings. You can expect early hits such as Suzanne and So long Maryanne, the haunting Famous Blue Raincoat and Who By Fire?, lighter works such as Tower of Song as well as pieces from his final album You Want It Darker? That was released just before his death. The text for the show was researched and written by Perran Hahndiek and is performed by Dave Starke.
The show had it's debut at The Rosebank Theatre in Cape Town where it was sold out for the duration of it's run.
About the authors:
Perran Hahndiek is a writer and poet based in Cape Town. He studied political science at UCT and is a procedural advisor to the National Assembly in the South African Parliament.
Dave Starke is a singer and guitarist based KZN. He has performed in a number of festivals and shows throughout South Africa and abroad over the last 20 years. In 2016, he appeared on the first season of The Voice – South Africa. In addition to performing, Dave also composes music for film and television as well as running a non-profit performing arts school for underprivileged youth in southern Zululand.
Some Feedback/comments:
"Dave Starke in 'Cohen - A Tribute' was the last scheduled show at the Rosebank Theatre, and one of the most brilliant. Quite simply Starke rocks!" William de Villiers
Now you must understand. I've been a Leonard Cohen fanatic (fan doesn't quite cover it) since I was 9 years old (going on 50 years). I've heard so many covers of his songs, and even play and sing some myself (privately). Some of those versions have been really good. Yet, somehow, for me at least, they never quite catch what Leonard Cohen manages to portray with, as he puts it, his "golden voice".
Well, that having been said, here is some high praise indeed. Dave Starke does not, with one exception, attempt to make Cohen's songs his own. Rather, he seems to almost channel Leonard. The often raw emotion of Cohen's songs, and the depth of his lyrics, is right there.
As a tribute to the great Leonard Cohen, this show is excellent. You will learn interesting things about his life, and the stories behind the songs, but you will also feel the depth of emotion that is vital to any true rendition of Cohen's songs." Robin Bownes
"Singer-guitarist Starke pays excellent tribute to Leonard Cohen, offering not only a well-researched history of the man, his poetry, music and achievements, but also insight into Cohen's thought processes. We also get various anecdotes, much interesting sideline info on the great poet and songwriter, and a lot of unexpected, dry humour. It is an elegant and captivating show, impressively lit by Sarah Claxon. It has the cool and confident Starke doing a great job with hits such a 'So Long Marianne', 'Suzanne', 'Sisters of Mercy', 'Hallelujah' and the moving 'The Treaty', as well as other hits and lesser-known material. Highly Recommended!" Bill Suter
Some Media Coverage:
Spotlight: Perran Hahndiek talks about Cohen - A Tribute
May 5, 2017 Barbara Loots
Dave Starke and Perran Hahndiek have known each other since the age of 9. It seems destiny set them on the creative path they are one today when in 1999 Starke borrowed Hahndiek's "Leonard Cohen – Greatest Hits", without giving it back, forever binding them together as brothers-in-music. This year sees them producing their first show together, and what else can it be than a celebration of that musical master, through narrative and song, in the form of the show Cohen – A Tribute at the Rosebank Theatre.
As it is not every day you see a poet try his hand at script writing, it was interesting to hear Hahndiek's take on their creative process and how the vision for this show took shape.
Creating a show together was originally Starke's idea, Hahndiek shares, "I mean we grew up together listening to folk music, listening to Leonard Cohen, Bob Dylan, all the classical folk musicians." So it is no surprise that with the passing of Leonard Cohen last year the guys started developing a show that pays tribute to one of music hero. "I was always more into writing," Hahndiek elaborates, "while he was always more into music and performance. So he asked me to write the script".
But what makes this all translate to the stage one wonders? "Leonard Cohen's life is a great story," Hahndiek explains, "so the show speaks to the themes he wrote about, because he was an author and a poet and a musician. I can't think of anyone else who has used those three mediums – literature, poetry and music – to such a high level. You get poets, like Bob Dylan, poets that are musicians, but not authors. The fact that Cohen could combine these three mediums" feeds into why his music is so relatable.
So you will definitely see Cohen's reflection of self, loneliness, relationships and even transcendence, all the things he found and experienced in his life, in this production. "Those themes are what make his music timeless," Hahndiek reflects, "and that's why people will still be listening to it for many generations to come".
Listening to Hahndiek talk about Cohen and his impact on words as art, whether captured in poetry or through song, it is clear that he has a creative and personal respect for Cohen and the legacy he left. "I grew up listening to Cohen, and every time my understanding of his music and his poetry changed."
Essentially, it is about Leonard Cohen's life, says Hahndiek, "his legacy, and how his music and poetry reflects his ideas". Starke as an experienced musician "knows how to talk to the audience and knows how the audience might respond", so Hahndiek has given him the script he wrote to run with as a narrative, with enough scope for Starke to adapt it to his performance style and to give it a "first person telling of Leonard Cohen's story".
Apart from the creative call to do a Cohen tribute, Hahndiek says he never really set out to experiment with script writing. "I'm a poet, a published poet, so poetry is really the kind of medium that I know well and one of the reasons I relate to and followed Leonard Cohen. Also I've dabbled in literature, sort of short stories, but it is something I want to practice a bit more. But doing something for the stage, it is obviously a different approach to stories. Although the stage is not something I set out to do, this opportunity to collaborate with Dave is exciting."
Asking him about the feel of the show, Hahndiek describes it as "definitely something interesting, with some of it told through my narrative, but really the main message being carried through the lyrics and the music." With Starke giving voice to their vision as a professional musician, Hahndiek professes himself excited to see how audiences will experience the impact of the telling through music, through "literally the words of Leonard Cohen himself".
Ultimately, Hahndiek would like audiences to take away an understanding of who Leonard Cohen was, along with a sense of what he represents, as the things he wrote about and sang about all speak "to the heart of the human condition... because he had a message. For example, his song 'Hallelujah', probably his most famous song, is all about how broken the world is, yet he still as an artist finds the courage to celebrate."
One can definitely sense the tribute in the celebratory journey this duo have set out to take audiences on, through the merging of narrative and song. It features songs spanning Cohen's full career (everything from his early favourites "Suzanne" and "Sisters of Mercy" to his later "Tower of Song" and "String Treaty"), interspersed with biographical notes and extracts of his writing.
R 375-00 a ticket - Centre
Restricted View R 350-00 – Pillars
Tables seat 8 at this venue.
Tickets include Savoury Platters and Pudding
NO UNDER 14's
Booking is essential.
NO FOOD OR ALCOHOL ALLOWED ON THE PROPERTY
Car Guard on Duty.
Book at Computicket or
E-mail: roland@stansell.co.za
Cell: 082 499 8636
http://events.durbantheatre.com
For showbiz news, reviews and interviews don't miss Billy Suter's Website at https://sosuterbill.com/