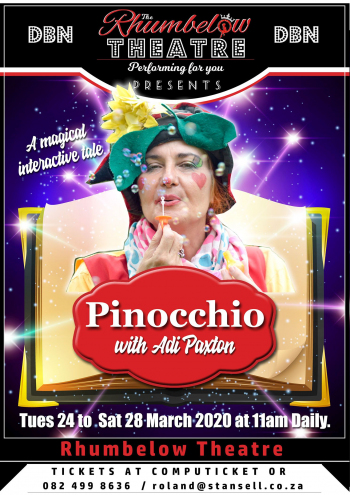 PINOCCHIO - Holiday Kids Fun CANCELLED
24th Mar 2020 - 28th Mar 2020
Starring
Inspired by the work of Carlo Collodi Performed by Adi Paxton
CompuTicket
Facebook Page
About The Show
RHUMBELOW THEATRE
42 Cunningham Rd off Bartle Road, Durban
KIDS SHOW THIS MARCH HOLIDAY SEASON
PINOCCHIO
A wonder filled, interactive tale
Inspired by the work of Carlo Collodi
Performed by Adi Paxton
11.00 TUE 24 MAR 2020
11.00 WED 25 MAR 2020
11.00 THU 26 MAR 2020
11.00 FRI 27 MAR 2020
11.00 SAT 28 MAR 2020
Do you have a 'nose' for the Truth? Or wonder what would happen if your strings were cut and you had to make your own way in the world? Would you want to be 'One of the Boys' at any cost? Join Adi Paxton in her latest interactive story and help Pinocchio to find out?
Carlo Collodi's classic tale of Pinocchio and his adventure as he tries to become a real boy has entertained children and parents since 1883, It features fantastic characters such as a kind hearted Blue Fairy, deceitful duo of Foxxio and Katia and of course the woodcarver called 'G. Petto' who started it all by carving a puppet and wishing for a son of his own.
Well known Durban family show, entertainer and magical clown Adi Paxton, presents her latest show at Rhumbelow in the March holidays: With hats, wigs, masks, unusual objects and some magic tricks This is a fun funky updated take on a true children's story classic.
With a lot of fun along the way the interactive elements, stimulate creativity, imagination and encourage participation.in this rendition of the original Italian classic.
'This truly is a modern fairy tale"
The perfect holiday delight for children of all ages, 4 to 400!!
About Adi: Adi has entertained family audiences in Durban, throughout SA and Internationally, since 1986 and is well known as Cherry the Magical Clown. She most recently performed the very popular Wizard of Oz ( Sept 2019)following ) that follows two successful shows at Rhumbelow in July2019: storytelling in African Tales or the fun and magic of Double Trouble A clown Adventure. If you enjoyed any of these you will enjoy her latest show which draws on elements of them all.
Whether she is entertaining children in theatres, schools. homes or hospitals in SA or abroad Adi enjoys encouraging audiences of all ages to join her in creatively engaging with stories to create their own wonder-filled worlds.

Show Running time: +- 50 minutes. + COLOURING IN COMPETITION.
There will be some fun colouring in afterwards for the kids and a colouring in competition.
Snacks and juices will be on sale.
R 75-00 a ticket
Book at COMPUTICKET or email Roland Cell 0824998636
Email: roland@stansell.co.za events.durbantheatre.com
For showbiz news, reviews and interviews don't miss Billy Suter's Website at https://sosuterbill.com/