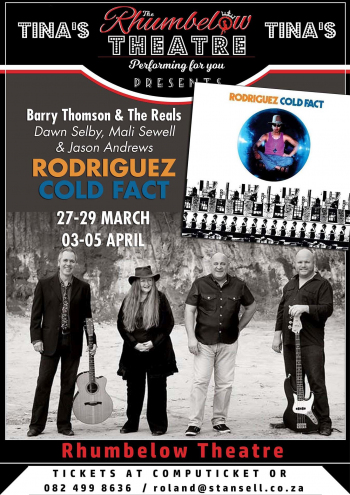 COLD FACT RODRIGUEZ - CANCELLED
27th Mar 2020 - 5th Apr 2020
Starring
The Reals -Barry Thomson, Dawn Selby, Mali Sewell & Jason Andrew
CompuTicket
Facebook Page
About The Show
RHUMBELOW THEATRE
Tina's Hotel, 14 Beryldene Rd, Kloof
Presents
'Cold Fact' - A Tribute to Rodriguez
Barry Thomson & The Reals
Barry Thomson, Dawn Selby, Mali Sewell & Jason Andrew
FRIDAY 27 MAR 2020 Show starts 20.00
SATURDAY 28 MAR 2020 Show starts 20.00
SUNDAY 29 MAR 2020 Show starts 14.00
FRIDAY 03 MAR 2020 Show starts 20.00
SATURDAY 04 MAR 2020 Show starts 20.00
SUNDAY 05 MAR 2020 Show starts 14.00
(Venue opens 90 minutes before show for drinks)
(For Restaurant reservations please contact 031 764 7843)
Back by popular demand.
Who would know that an unknown album from an unknown artist in 1970 (Rodriguez) would become a huge phenomenon in South Africa?
Rodriguez himself was never aware of his huge success, as well as most other Americans. His music was lost in the US but, by a strange coincidence becomes a cult hit in South Africa and becomes a symbol of rebellion for the underground white, anti-apartheid sub-culture.
The show features all his well-remembered songs such as "I Wonder", "Establishment Blues" and "Sugar Man", amongst others.
This musical tribute to Rodriguez's music is performed by Barry Thomson and 'The Reals' with Musical Director Dawn Selby on keyboards and percussion, Mali Sewell on drums and vocals, and Jason Andrew on bass guitar and vocals.
Durban's Top Talent at the Rhumbelow Theatre.
Reviews:
Keith Millar: '….The band puts in its usual impeccable performance. They display real sincerity and warmth on stage.'
Billy Suter: '…….this tribute to the music and memory of Rodriguez had the Rhumbelow's opening night audience in high spirits, their hearty applause and keenness to sing along with the band visibly moving Thomson, who continually expressed his gratitude. The show drew a standing ovation on opening night.'
Gisele Turner: '…….With the usual high quality of musicianship expected from musicians of this calibre, the songs are rendered with authenticity and respect for the originals. If you're a fan (and who isn't?) of the man and his music, then the cosy Rhumbelow venue is a great place to enjoy.'
R 160-00 a ticket

(R 140-00 Pensioners & FHSSC MEMBERS – 1ST WEEKEND ONLY )
(R 140-00 Students with a valid student card- 1ST WEEKEND ONLY)

Loyalty Card Holders (R 130-00) ALL SHOWS
Block Bookings 8 or more R 140-00 – ALL SHOWS
Tickets are CASH or EFT ONLY
Secure Parking is available.
(PLEASE NOTE -no alcohol or food may be brought on to the premises)
Book at Computicket or email Roland for bookings and get that money rolling in.
Cell 0824998636
Email: roland@stansell.co.za
Website: https://events.durbantheatre.com/
For showbiz news, reviews and interviews don't miss Billy Suter's Website at https://sosuterbill.com/
Tina's Restaurant - www.tinashotel.co.za/
Booking is essential for Tina's Restaurant as seating is limited – 031 764 7843
We recommend that you arrive no later than 120 min before show time for the Restaurant.
A-la-Carte menu available.
EVENING BUFFET – R 130-00 per head (show bookings)
SUNDAY ROAST BUFFET – R 130-00
Please indicate that you are a theatre booking when making your reservation.
Payment for Restaurant – CASH, CREDIT CARD or ZAPPER
Full Bar Available