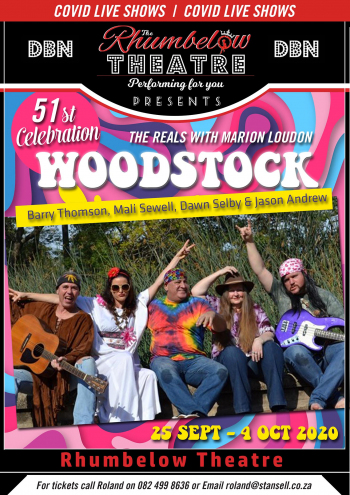 WOODSTOCK - 51 Year Celebration
25th Sep 2020 - 4th Oct 2020
Starring
Barry Thomson & The Reals - Dawn Selby, Jason Andrew, Mali Sewell & Barry Thomson Guest performer Marion Loudon
Facebook Page
About The Show
RHUMBELOW THEATRE
42 Cunningham Rd off Bartle Road, Durban
ALL TICKETS MUST BE PRE-BOOKED
NO WALKINS ALLOWED
PLEASE NOTE THE FOLLOWING
COVID-19 PROTOCOLS FOR PATRONS
WOODSTOCK
Barry Thomson & The Reals
Dawn Selby, Jason Andrew, Mali Sewell & Barry Thomson
Guest performer Marion Loudon
NOTE: EARLIER STARTING TIME FRI AND SAT AS THIS IS A LONGER SHOW THAN NORMAL, AND WE NEED TO GET YOU HOME BEFORE CURFEW
FRIDAY 25 SEPT 2020 Show starts 18.30 – DBN
SATURDAY 26 SEPT 2020 Show starts 18.30 – DBN
SUNDAY 27 SEPT 2020 Show starts 14.00 – DBN
(Venue opens 60 minutes before show for snacks/drinks)
FRIDAY 02 OCT 2020 Show starts 18.30 – DBN
SATURDAY 03 OCT 2020 Show starts 18.30 – DBN
SUNDAY 04 OCT 2020 Show starts 14.00 – DBN
(Venue opens 60 minutes before show for snacks/drinks)
'WOODSTOCK'
This year marks the 51st anniversary of the legendary Woodstock festival which took place from 15th to 18th August 1969 on Max Yasgur's 600 acre dairy farm in the New York town of Bethel. The 'Rolling Stone' magazine listed Woodstock as 'one of the 50 Moments that changed the history of rock and roll'.
The line-up included 32 acts performing to an audience of over 400 000 young people. Creedence Clearwater Revival was the first act to sign a contract and this persuaded other big acts to follow suit. Performing their second ever concert was Crosby, Stills, Nash and Young who announced 'This is the second time we've ever played in front of people, man. We're scared s*?@less!'
This 51-year celebration of 'Woodstock' features 'The Reals', with the talents of Barry Thomson (Guitar / vocals), Musical Director Dawn Selby (Keyboards / vocals), Mali Sewell (Drums / vocals) and Jason Andrew (Bass guitar / vocals). The vivacious and super talented Marion Loudon (Vocals / percussion) will perform with 'The Reals' for this production. Featured artistes include Santana, Richie Havens, Janis Joplin, The Who, Jimi Hendrix, Joe Cocker and many more.
Join us at the Rhumbelow when we celebrate the 51st anniversary of the three days of peace and music of 'Woodstock'. Watch audio visual excerpts from Woodstock and dress up in Woodstock hippie style for a fun experience with 'The Reals'.
Whilst we are not changing our 2020 pricing, we would ask that if you are able to please assist us and the performers by donating a higher ticket price.
R 160-00 a ticket
(R 140-00 Pensioners)
(R 140-00 Students with a valid student card)
Loyalty Card Holders (R 130-00) ALL SHOWS
Bring food picnic baskets or buy from Kevin.
ALL SEATING WILL BE AT SEPARATE TABLES AND WE WILL OBVIOUSLY BE SEATING CO-HABITING COUPLES AND/OR FAMILY MEMBERS.
50 % MAX PER SHOW
Limited secure parking available
Booking is essential.
Bar Available
(no alcohol may be brought on to the premises)
Cell 0824998636
BOOKINGS ON EMAIL PLEASE : roland@stansell.co.za
http://events.durbantheatre.com/
For showbiz news, reviews and interviews don't miss Billy Suter's Website at https://sosuterbill.com/
PLEASE NOTE THE FOLLOWING
COVID-19 PROTOCOLS FOR PATRONS
HEALTH AND SAFETY PROTOCOLS FOR PATRONS

Patrons need to wear a face and nose covering at all times in the venue except when eating or drinking.
All patrons will have their temperatures taken on arrival at the venue.
All patrons will be required to complete documents relating to Travel and Covid-19 contacts.
All patrons will be required to complete an indemnity form.
All patrons will be required to complete an attendance register with all appropriate information including confirmation of co-habiting when couples attend.
All patrons will be hand sanitized on arrival and at interval.
All patrons will be requested to bring hand sanitizer with them to the venue.
Any patron who does not meet the required Health & Safety protocols and temperature check will be refused entry.
Patrons above the age of 60 or a person with co-morbidities will be discouraged from attending performances. PLEASE NOTE THAT THIS IS A GOVT GUIDELINE. PLEASE BE GUIDED BY YOUR OWN HEALTH STATUS